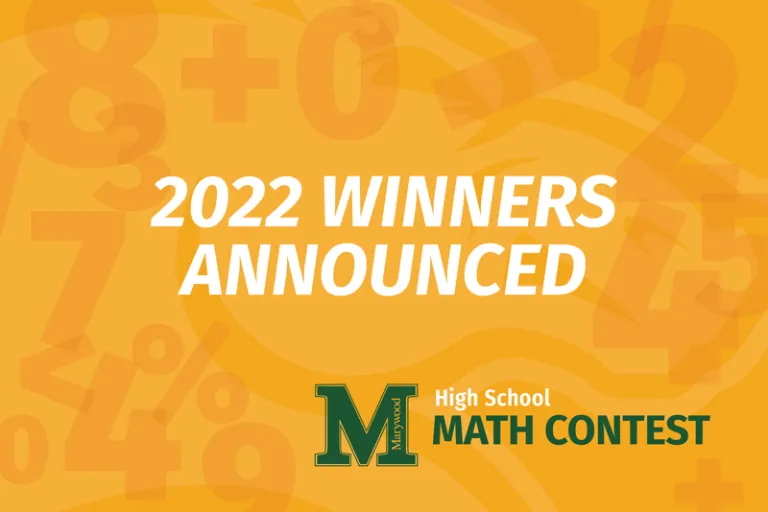 2022 Math Contest Winners Announced
The 2022 Marywood High School Math Contest sponsored by the Math and Computer Science Club, iMACS, was held on Saturday, April 23, 2022 from 10 to 11 a.m. in the Liberal Arts Center, and the list of winners was recently posted.
The annual contest includes two levels: Level 1 – designed for 9th and 10th grade students, and the Level II test for 11th and 12th grades. The test consisted of 40 problems of gradually increasing difficulty.
Schools represented by top competitors included North Pocono, Abington Heights, Delaware Valley, Wyoming Seminary, Wyoming Valley West, Scranton, and Scranton Prep.
Prizes were awarded to the top three scores in each level. In case of ties, the corresponding prizes are evenly split with a minimum $10 per student. Prize levels included: 1st Place: $100; 2nd Place: $50; 3rd Place: $25. Additionally, the 1st place winner in the Level II contest receives a $2,000 annual scholarship if s/he enrolls at Marywood University within two years of the contest date. The 2nd place winner in the Level II contest receives a $1,000 annual scholarship, subject to the same conditions as the 1st place winner. Scholarships are renewable for up to four years if the student makes satisfactory academic progress.
Students with the top 10 scores on the Level II exam are eligible to be members of this year's Northeast Pennsylvania ARML (American Regions Mathematics League) team.