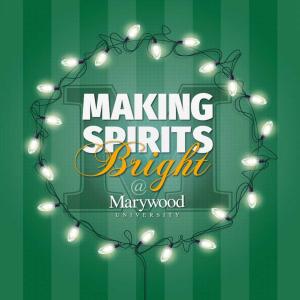 Making Spirits Bright at Christmastime
Christmas and Advent traditions at Marywood University continue this year, with protocols in place to ensure safe, in-person experiences and opportunities for prayer, cultural events, and community service endeavors. Making Spirits Bright is Marywood's way of encouraging prayer, sharing gifts, and uplifting people throughout the holiday season, starting on December 1 and continuing through New Year's Day.
"After all the challenges we've faced since the pandemic began, we want people to have something to anticipate and celebrate," said Sister Mary Persico, IHM, Marywood's President. "This sacred season encompasses preparation, sharing, and rejoicing. We think our collective efforts to count our blessings, to give back to the community, and to celebrate our cherished traditions, in simple but meaningful ways, certainly will make spirits bright."
Student and Staff Events and Service Projects
Making Spirits Bright will kick off officially with the Annual Christmas Tree Lighting in the Marywood University Rotunda on December 1 at 4 p.m. Seasonal music from student musicians will be featured.
For safety reasons, the tree lighting event is closed to the public and will be open only to Marywood students and staff. However, the event will be livestreamed on Marywood's website on the day of the event, and the public may view the tree during the normal operating hours of the Liberal Arts Center, Monday through Friday, December 2-22, 8 a.m.-8 p.m. Masks must be worn inside all Marywood buildings.
Student groups will partner Marywood's Grounds/Maintenance staff in campus decorating efforts on Thursday and Friday afternoons in the second and third weeks of November and in community service projects organized through the Office of Service Learning and Community Service. Students can vote for their favorite décor during the campus Office Decorating Contest, sponsored by the Student Government Association. A $250 donation will be given to the winning office's favorite charity.
Service projects include On-Campus and Virtual Giving Trees and a Community Christmas Card project, and these efforts are running from November 2-December 1. Gifts for the Giving Tree are due at the Tree Lighting ceremony on December 1, and drop off boxes will be available at the event as well as on campus, located in the McGowan Center, near the Latour Room in Nazareth Student Center, and in the Learning Commons. Students and staff can sign up online for the Christmas Card Project or the Virtual Giving Tree or pick up GIving Tree tags from trees set up around campus. Any other questions related to service efforts can be directed to Amy Fotta, Director of Community Service and Social Justice, at amfotta@maryu.marywood.edu. Beneficiaries of these service efforts are Friends of the Poor, Marywood Heights and Our Lady of Peace residents/staff, NativityMiguel Scranton students/staff, veterans and active members of the military, and agencies who work with the local homeless population.
Sister Mary Persico, IHM, Marywood's President, will connect with students through a recorded Fireside Chat video in December at the conclusion of the semester.
Community Events
Marywood will continue to spread cheer by making the campus festive for the community with its 3rd Annual Light Up Campus event. Following the tree lighting ceremony on December 1, and throughout the holiday season, members of the local community are welcome to drive through Marywood's campus to see the main Christmas display at the Arch and the other seasonal outdoor displays after 4:30 p.m.
Additionally, Marywood's award-winning, student-run radio station, VMFM 91.7, will once again become Christmas 91.7 and continue its traditional community gift of broadcasting commercial-free Christmas music, 24/7, beginning Wednesday, December 1, at 4 p.m. and continuing through New Year's Eve. Those who do not live within the station's local broadcast range can stream it for free online or through the Tune-in app.
Concerts and spiritual celebrations are free and open to the public. Masking protocols must be followed at in-person events. Concerts include:
Chamber Singers Holiday Concert, Sunday, December 5, 4 p.m., at the Marian Chapel.

This performance will include the famous "Alleluia" by Randall Thompson, the popular setting of "Lux Aurumque" by Eric Whitacre, and Carol Barnett's spectacular "Hodie," as well as carol settings and other sacred and secular music by American composers.

Guitar Ensemble: Holiday Concert for a Global Community, Wednesday, December 8, 7 p.m., at the Marian Chapel.

This concert is being produced in partnership with Marywood's Center for Global Engagement. During the concert, hear a musical holiday message that Marywood President Sister Mary Persico IHM wrote especially for the event, spoken by the student musicians in several different languages.

String Project Holiday Gala Concert, Thursday, December 9, 6:30 p.m., at the Sette LaVerghetta Center for Performing Arts.

This concert features the children and student teachers from Marywood's String Project. They will be playing music from around the world and some holiday music to welcome in the season.
Mass for the Solemnity of the Immaculate Conception, the feast day of the IHM Sisters, will be celebrated on Wednesday, December 8, at Noon in the Marian Chapel. This is planned as an in-person Mass with limited space available. Masking protocols must be followed.
During Advent, the IHM Sisters will videostream two Evening of Prayer Events on Wednesday, December 1, and Wednesday, December 15, both at 6:30 p.m., at: https://video.ibm.com/channel/ihm-tv.