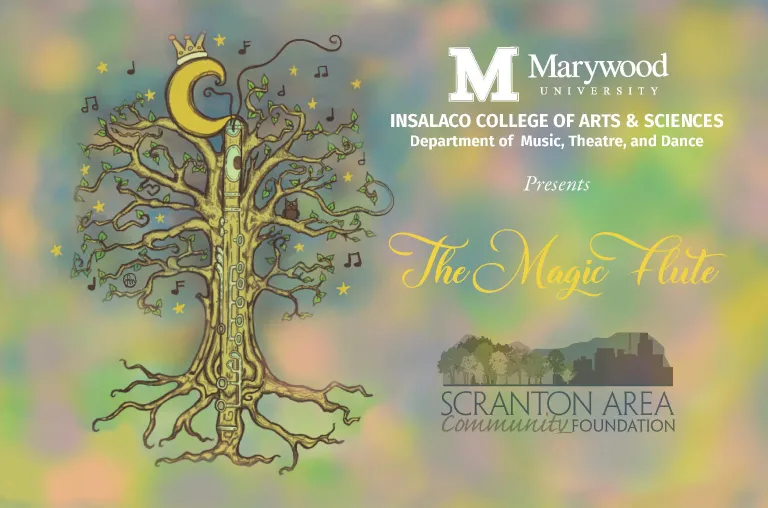 Marywood University Presenting Mozart's "The Magic Flute"
Marywood University's Department of Music, Theatre, and Dance is collaborating with the School of Architecture in creating a full-scale production of Mozart's The Magic Flute. The production marks only the second time in Marywood's history that its students will perform a complete opera with orchestra.
The stage director for The Magic Flute is A. Scott Parry, who is on the faculties of Manhattan School of Music and New York University and has directed productions at professional opera companies across the country, including New York City Opera, Florida Grand Opera, Santa Fe Opera, Boston Lyric Opera, Michigan Opera Theatre, Dallas Opera, Chicago Opera Theatre, Indianapolis Opera, and Pittsburgh Opera. The Music Director and Conductor is Rick Hoffenberg, D.M.A., co-chair of Marywood's Department of Music, Theatre, and Dance.
Marywood's production of The Magic Flute is made possible in part by a grant from the Community Events Fund of the Scranton Area Community Foundation, which supports non-profit organizations hosting community events which add value to the overall community and enrich the lives of those in our area.
Performances are free and open to the public and will be held in the Munley Theatre of the Sette LaVerghetta Center for Performing Arts on Saturday, November 12, at 7 p.m., and on Sunday, November 13, at 2 p.m. Additionally, there will be a compressed version of the opera performed for local middle school and high school students on Thursday, November 10, at 10 a.m.
The Scranton Area Community Foundation is a public 501(c)(3) community foundation with assets of more than $57 million and more than 275 charitable funds. More information about the Scranton Area Community Foundation can be found at www.safdn.org.

Check out fall semester concerts and performances of Marywood's Music, Theatre, and Dance Department at marywood.edu/news/mtd-events-fall-2022 or call (570) 348-6268.