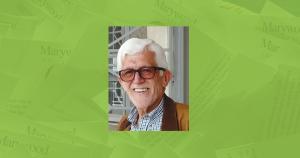 Lloyd L. Lyter, Ph.D., MSW, LSW - Named Social Work Educator of the Year
At its 2018 conference, the National Association of Social Workers of Pennsylvania (NASW-PA) Chapter awarded Lloyd L. Lyter, Ph.D., MSW, LSW, with the Social Work Educator of the Year Award. Dr. Lyter is a professor of social work and director of Marywood University's Pocono Master of Social Work Program at East Stroudsburg University, where he also teaches in East Stroudsburg's bachelor's-level social work program.
Dr. Lyter has many years of practice and administrative experience in behavioral health. He publishes; serves on the review boards of social work journals; and presents regularly at state, regional, national, and international conferences as an invited speaker and in juried presentations in his specialty areas: psychopathology, with emphasis on the Diagnostic and Statistical Manual of Mental Disorders, racial bias in diagnosing mental disorders, and chemical dependence.
In addition to serving four terms on the NASW-PA Board of Directors, two as vice president, Dr. Lyter has been actively involved with the Council on Social Work Education, having served on the Council of Conferences and Faculty Development and as a Site Visitor for the past 15 years. He serves on the Association of Baccalaureate Social Work Program Directors as co-chair of the Nominations Committee. He has served Marywood University as the director of the School of Social Work, interim dean for the College of Health and Human Services, and, in 2015, he was named to the Order Cor Mariae-Pro Fide et Cultura, having served on the faculty at Marywood University for 20 years.
Dr. Lyter earned his doctorate in social work at Rutgers University, his master of social work degree from Marywood University, and his master of public administration degree from Temple University. He earned his bachelor's degree with majors in sociology and political science from East Stroudsburg State College.