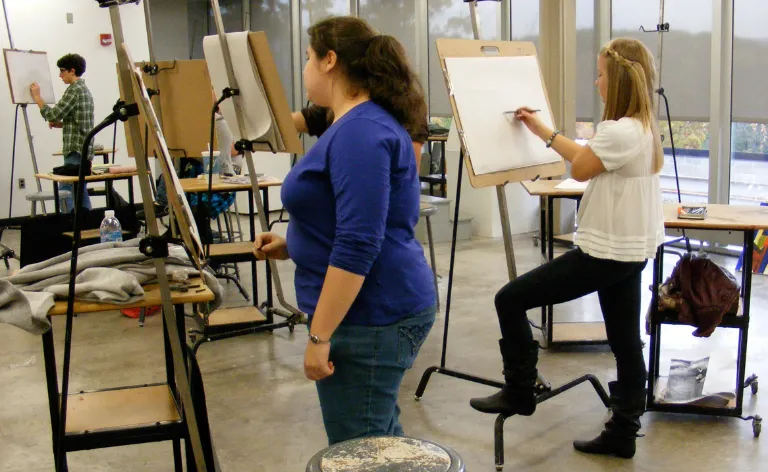 Faculty Member Receives Art of the State Award
Nikki Moser, assistant professor of art and area coordinator of 3D studies at the University, was awarded second prize for her work, "Springville Fracking Well and Pond," in the sculpture division of the 2017 Art of the State Awards.
Art of the State is an annual juried exhibition that has been showcasing the work of Pennsylvania's artists at The State Museum of Pennsylvania since 1968. This year marks the 50th anniversary of this prestigious exhibition.
Awards were given in painting, photography, sculpture, craft and work on paper. Winners were chosen from 130 works selected from more than 2,200 submissions.
Ms. Moser is an artist, mother, teacher, and advocate. In 2010, she co-founded Keystone Iron Works, an iron casting program for at-risk high school students, which has been awarded two National Endowment for the Arts (NEA) awards. She is also the 2016 recipient of the F. Lammot Belin Award for her work with Keystone Iron Works. The NEA awards also led to the founding, in collaboration with the Lackawanna Heritage Valley Authority, of the Confluence Sculpture Park. This project is actively populating 110 miles of walking and biking trails in the Lackawanna Valley with sculptures and works of art.
Ms. Moser earned her bachelor of fine arts degree from The Cooper Union for the Advancement of Science and Arts, New York City, N.Y., and she earned her master of fine arts degree in studio art from the Maryland Institute College of Art (MICA), Baltimore, Md. She regularly exhibits her work nationally and has sculptures in many private and public collections.