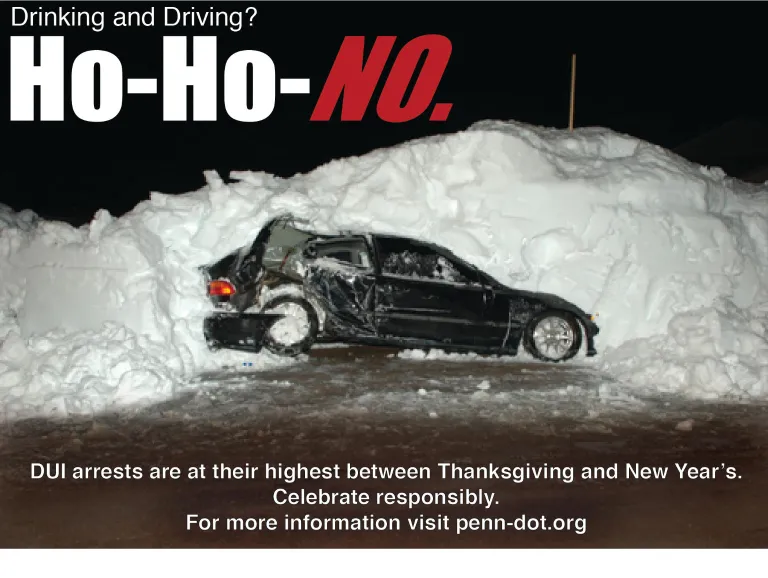 Designs Drive Awareness
Chris Medley and John Meza, Associate Professors of Art, recently gave their graphic design students a project that can drive home some important messages. The students have been creating ad campaigns and design work to support local efforts by PennDOT to spread the word about transportation safety issues. Their work began in early fall, and the goal was to have designs ready by the holiday season.

The students' designs focus on key safety issues such as holiday drunk driving, drowsy driving, teen driver safety, senior citizen driver awareness, and collegiate drinking/driving awareness. Projects take shape through various media, including posters, ads, billboards, brochures, magnets, and a Snapchat filter. Once developed, the students' work appears in the local community and at schools. Michael Taluto from PennDOT is attending John Meza's class on Tuesday, December 4, as a guest critic of the students' designs.

Chris Medley said this project is more than a classroom exercise; it promotes Marywood's mission to foster leadership in service to others. "Through their work, the students are providing services to the community to promote awareness and save lives." Going forward, the students have even more designs in the works to illustrate important issues, including a campaign to promote awareness of the opioid crisis.


Image Credit: Holiday Impaired Driving Snapchat filter-Design team Michael Schmidt and Meg Welcyng