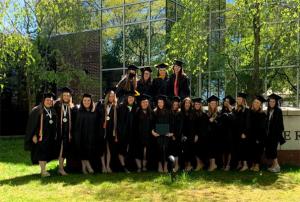 CSD Dept: 100 Percent Pass Rate/Gold Chapter Honors
Marywood University's Department of Communication Sciences and Disorders (CSD) recently garnered two noteworthy accolades, including a perfect pass rate on the National Examination in Speech-Language Pathology by its recent graduates and Gold Chapter Honors by its campus chapter of the National Student Speech-Language-Hearing Association (NSSLHA). Both are repeat, multi-year accomplishments for program graduates and students.
The 2021 graduating class from the Master of Science program in Speech-Language Pathology (SLP) achieved 100 percent pass rate on the National Examination in Speech-Language Pathology, which is required for certification as a speech-language pathologist by the American Speech-Language-Hearing Association and licensure in all states. The CSD Department currently has a multi-year average of 100 percent for passing the National Examination of its SLP graduates within one year of graduation.
The National NSSLHA Executive Council recently informed the Marywood NSSLHA Chapter that the chapter had once again earned Gold Chapter Honors, with this most recent honor occurring during the 2020-2021 academic year. Chapters who earn Gold Honors are credited for "increasing awareness of communication disorders among state and federal legislators and across communities; supporting clients, students, and organizations in their community; creating vibrant online conversations in the NSSLHA Community; providing monetary donations to support various organizations in the community and scholarships for students in CSD programs."
This past year, the Marywood NSSLHA Chapter provided monetary donations and community service to the Alzheimer's Association. Donations were also made to the Pacer Pantry, and service was provided throughout the community.
Andrea Novak, associate professor of practice in the CSD Department and faculty advisor for the Marywood NSSLHA Chapter, stated, "Our students go above and beyond to provide service, whether it be on Marywood's campus or in the community. They are such a unique group of individuals who are always looking for ways to serve."
Marywood's NSSLHA chapter consists of approximately 50 student members from the undergraduate CSD and graduate SLP programs. Officers for the 2020-2021 academic year were: Katelyn Gjini, President (Ramsey, NJ); Nicole Koestler, Vice-President (Hazlet, NJ); Hannah Longacre, Secretary (Chambersburg, PA); Alaina Brenneman, Treasurer (Scranton, PA).
Visit the Communication Sciences and Disorders Department site for more information.