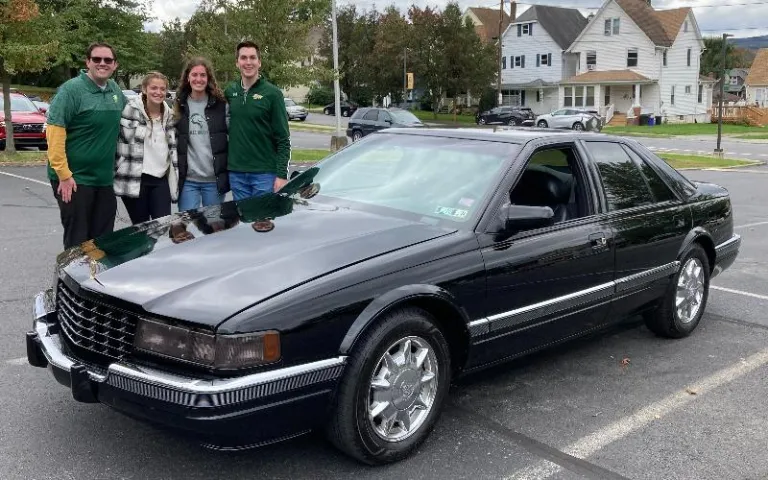 Cruisin' for a Cause Car Show Benefits St. Joseph's Center
Marywood University recently hosted its first Cruisin' for a Cause Car Show. The event, originally scheduled to occur during Alumni/Family Weekend in September, was rescheduled due to rain and took place on October 8 in the Nazareth Student Center parking lot. The rescheduled event actually drew a larger car turnout than previously expected, featuring 40 cars including classic, modern, unique, and rare vehicles.
Cruisin' for a Cause was hosted by Marywood's SOUL (Students Organized to Uphold Life), in collaboration with MAC (Marywood Activities Council) and SAA (Student Alumni Association). All proceeds, totaling $900, benefitted Saint Joseph's Center.
Organizers noted that one vehicle at the show was 64 out of 70 in existence, and another was one of 400 in the United States. Two vendors also joined the event, including NEPA Luxury RVs and a Hot Wheels/Matchbox vendor and hobbyist. An enthusiastic group of drivers from around the area mingled with a large turnout of students and locals who came to spectate. There were three trophies for the event, Best Modern Car, Best Classic Car, and Most Unique Car. Overall, 200+ people visited the show on Marywood's campus.

Monsignor Van Loon of Saint Paul Parish began with a prayer and opening blessing before Zachary Houston, SOUL President, gave remarks and expressed gratitude to those who attended. Michael Romano, SOUL Vice President & SAA Director of Events, announced trophy winners and welcomed WNEP-TV News to the event.
SOUL connected with The Pharaohs Car Club of Scranton, the Villa Capri Cruisers Car Club, the Pocono Mountain Street Rods Club, and the Hi Lites Car Club to get cars for the event, which also featured a 50/50 raffle. MAC brought baked goods and warm and cold apple cider to sell, as well as providing a speaker system and other supplies. SAA promoted the event to Marywood Alumni, helped get stickers and magnets for the event, and was a vital support to the success of the show.
Marywood University staff aided in support with both their time and generosity, especially David Joseph and Bob Misko of Gourmet Dining; Dr. Renee Zehel, Vice President for University Advancement; Megan Galko, Director of Alumni Engagement, and Kevin Farrell, Director of Student Engagement.

The student groups have already begun planning next year's Cruisin' for a Cause Car Show. SOUL aims to make this the newest Marywood tradition that will bring a fun community event to campus while also benefitting those in need.
Image ID: Marywood's SOUL leadership team, including, left to right, Zach Houston, Gabriella Nowak, Victoria Schultz, and Michael Romano, are pictured next to one of the 40 cars displayed during the recent Cruisin' for a Cause event.