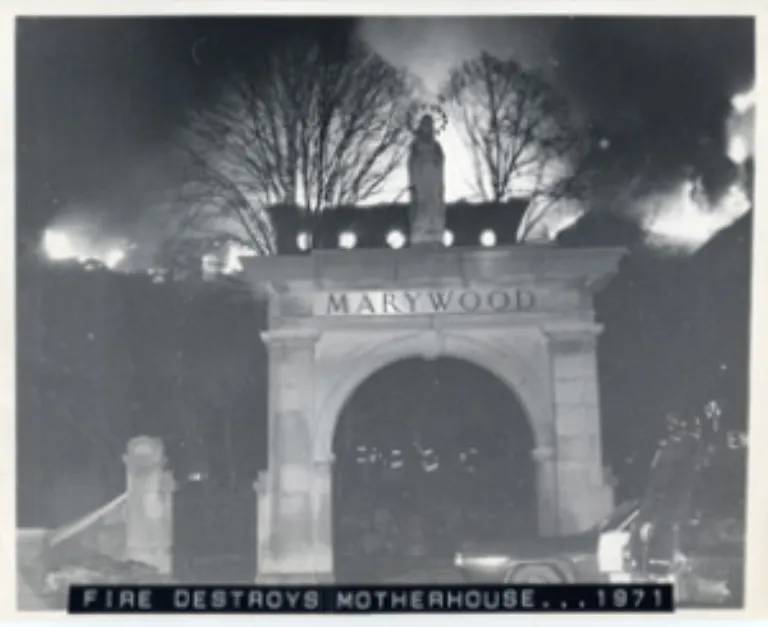 Commemorating the Motherhouse Landmark with Prayer, Music, and History
February 22, 2021, marks 50 years since a massive fire destroyed the Motherhouse and Seminary on the campus of Marywood University. The blaze, which displaced sisters, demolished a beloved landmark, and left numerous sisters and first responders injured, incredibly did not result in any loss of life.
This year, the Congregation of the Sisters, Servants of the Immaculate Heart of Sunday, February 21, 2021, at 6:30 p.m. This memorial service is free and open to the public, and can be accessed, at video.ibm.com/channel/ihm-tv.
The four-story structure, which included a wing for Marywood Seminary, also featured a beautiful chapel, space for the novitiate classrooms, dining rooms, dormitories, and housing for the faculty of both Marywood Seminary and College. The building opened on September 8, 1902. Marywood College was established there in 1915, attained University status in 1997, and continues to be a leading educational asset in the region. Marywood Seminary operated until 1971, when the Motherhouse, which had been a monument of the campus from its beginning, was entirely demolished by the tragic fire.
The site where the Motherhouse stood was later commemorated by a Marywood Memorial Commons and has since been reimagined into the Motherhouse and Seminary Morgan Memorial Garden. The Garden leads to the entrance of the Learning Commons, established in 2015, which has become the intellectual and social heart of Marywood University's campus. The focal point of the Motherhouse and Seminary Morgan Memorial Garden is a fountain, in honor of the IHM Congregation and its founders, at the exact site where the Motherhouse Chapel was once located.
Please join the IHM Congregation, as they celebrate and thank the God of Divine Providence for the life and the spirit of the IHM Motherhouse and all who called it home, at the virtual memorial service on Sunday, February 21, 2021, at 6:30 p.m., at video.ibm.com/channel/ihm-tv. For those interested in viewing photos and video of the Motherhouse, please visit animoto.com/play/g6CJpHwFn80jzSnfbIo45Q.