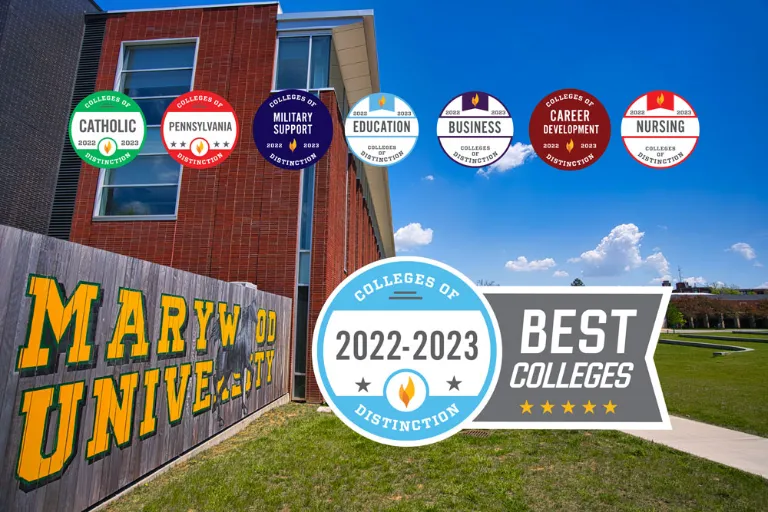 Marywood Recognized: 2022-23 Colleges of Distinction
Marywood University has been recognized nationally for its high-impact approach to education and its honorable commitment to engaged, experiential education by Colleges of Distinction, a one-of-a-kind guide for college-bound students. As an institution whose primary goals are based on student success and satisfaction, Marywood confirms its honor as one of the renowned Colleges of Distinction.
Colleges of Distinction boasts its longstanding support for student-centered schools that traditional rankings often overlook, advocating for schools whose undergraduate experiences are grounded in a philosophy of well-rounded, individualized engagement. Founder Wes Creel created Colleges of Distinction to draw more attention to schools like Marywood, whose student-centered education prevails in applying theory to practice while fostering a dynamic learning community.
"When we focus all of our attention on how schools stack up against one another, we lose track of what really matters: the students themselves," said Wes Creel, Founder of Colleges of Distinction. "Every student has individual needs and their own environment in which they're most likely to thrive. We want to extend our praise to the schools that prioritize and cater to students' goals." Marywood's inclusion is informed by the unique ways it commits to achieving success. The effective strategies for student satisfaction and outcomes were the kinds of engaging experiences found at Marywood.
Marywood University earned special recognition nationally among Catholic Universities and statewide among Pennsylvania Universities. Individual accolades include Colleges of Distinction's national endorsements of Marywood's academic programs in Business, Education, and Nursing, as well as its exceptional student support initiatives in Career Development and Military Support.
These additional distinctions were borne out of a need for college curricula that are comprehensive not only in course material, but also in practical and soft-skills development. Marywood University has met these needs with a blend of professional degrees, supported by a strong liberal arts education, program-specific training, and abundant opportunities for real-world application. Marywood also has excelled at having students graduate and enter the workforce with versatile skills; that's why students attend Marywood—to discover their passion and realize their purpose.
"We complete a thorough review of the programs in question before giving the awards," said Tyson Schritter, Chief Operating Officer for Colleges of Distinction. "We're looking for such qualities as accreditation, breadth of program, advising and mentoring, integration of career services, and successful outcomes for students. It's wonderful to see how Marywood University really exemplifies these qualities." He continued, "Marywood has created a welcoming environment for underserved students. It's a tremendous opportunity to highlight the noteworthy support offered for students who might not otherwise study and thrive on a college campus."
About Colleges of Distinction
Since 2000, Colleges of Distinction has been committed to honoring schools throughout the U.S. for true excellence in higher education. The member schools within the Colleges of Distinction consortium distinguish themselves through their dedicated focus on the undergraduate experience. Its website provides dynamic college profiles, customized tools, and resources for students, parents, and high school counselors. For more information, and to learn how to become a College of Distinction, visit CollegesofDistinction.com.