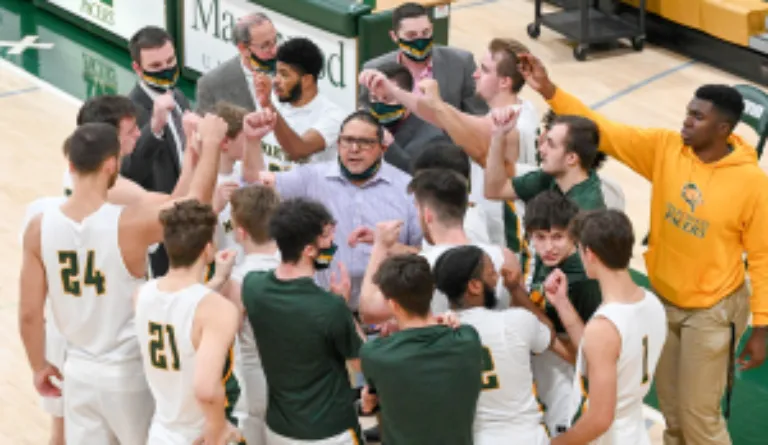 Coach Enrico: Giving Back to Help Others
Men's Basketball Head Coach Enrico Mastroianni has been given the opportunity of a lifetime to help others, and he's reaching out to the Marywood Community to assist him in raising funds in the fight against blood cancers.

Each year The Leukemia & Lymphoma Society (LLS) launches its Man & Woman of the Year fundraising campaign, and Coach Enrico was honored to join this year's efforts as the 2022 Man of the Year candidate.He humbly asks the Marywood Community for its support of LLS's mission in its efforts to find cures for blood cancers and to assist patients and families as they battle this disease.

Through May 18, 2022, his team's goal is to raise $25,000, which will go directly to LLS in support of its longstanding mission to find cures and ensure patients access to the treatments they need. If he raises over $25,000 by May 18, 2022, he can link his name to an LLS-funded research portfolio this year to honor our efforts to help people with blood cancers.

Like many, he has witnessed firsthand the debilitating effects that leukemia, lymphoma, Hodgkin's disease, and myeloma can have on those who suffer from these blood cancers, and on the friends and family who care for and nurture their loved ones. Coach Enrico stated, "Many of you already know, I lost my Dad, Nicholas Mastroianni, 20 years ago to cancer. In just over three months of diagnosis, he was gone; my biggest fan and supporter who had never missed any of my games, never got the chance to see me coach."
With your help, Coach Enrico would like to prevent someone else from having to tell a similar story someday. You can donate online at: ENRICO'S CAMPAIGN PAGE. Before the Grand Finale Gala, there is a final Benefit Rally on May 15 to support the Leukemia & Lymphoma Society at The Union Craft House from 2 to 5 p.m. with live music, unlimited pizza, boneless wings, soft drinks, and a fun Bounce House for the kids set up by The Bounce House Party. First Beer Free, $2 Domestics, full cash bar menu available. Raffle Baskets and Grand Prize Raffle drawing will be held live on site to close out the event! $25 for adults, Kids 12 & Under are FREE. Message for reservations or to donate baskets/sponsor our event.