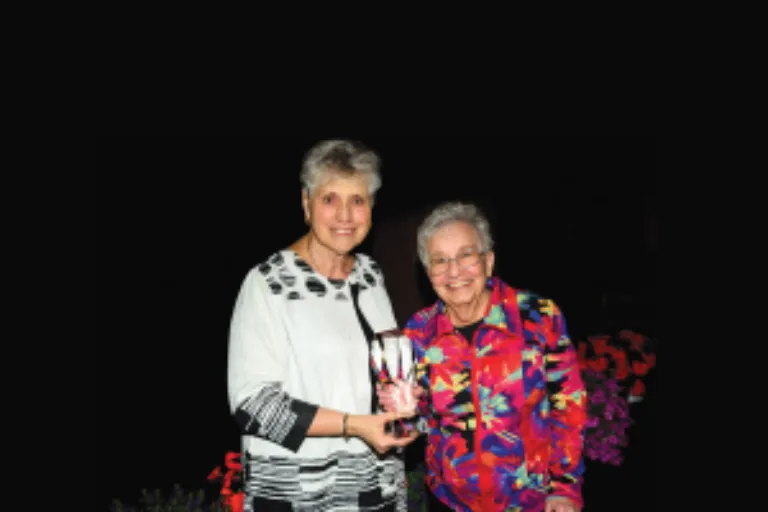 CLC Raises Over $252,000
Marywood University's Ninth Annual Community Leadership Celebration, which took place on Thursday, May 5, 2022, honored Sister Gail Cabral, IHM, Ph.D., who recently retired after 52 years as a psychology professor at Marywood. Funds raised at this year's Community Leadership Celebration (CLC) exceeded $252,000.
To date, the CLC has raised nearly $3.2 million dollars. Marywood University's CLC event is the University's only fundraising event that provides special support to Marywood students. Proceeds from this year's event, as in the past three years, will support the President's Innovation Fund, a fund that supports Marywood students through initiatives that enhance the academic experience in the IHM tradition.
More than 200 people gathered at the Insalaco Arena in the Center for Athletics and Wellness to celebrate as Marywood proudly bestowed the Lead On Award to Sister Gail, honoring her for her lifelong commitment to education, service, and the common good, as well as her dedication to the psychology and importance of friendship.
Mary Anne Fedrick, Ph.D., retired Marywood dean, and Maria Gogal, Marywood trustee, both longtime friends of Sister Gail, served as committee co-chairs of the event. Guests of the event were entertained by pianist Jim Waltich, vocalist Erin Malloy, and magician and mentalist John Graham. In addition, student vocalists Dominique Ferraro '25, Gabe Jenceleski '24, and Sean Wolfe '24, accompanied by Rick Hoffenberg, DMA, sang "Old Friends" from the Sondheim musical, Merrily We Roll Along.
For 56 years, Sister Gail has been a professed member of the Congregation of the Sisters, Servants of the Immaculate Heart of Mary (IHM). Throughout her more than five decades of teaching psychology, she has worked with students on undergraduate, graduate, and doctoral levels. She was the first director of Marywood's Ph.D. program in human development and also served as the chairperson of the psychology department. Sister Gail holds a bachelor of arts degree in psychology and a master of science in education from Marywood, as well as a Ph.D. from the Catholic University of America. She received a National Endowment for the Humanities for a two-month seminar in autobiography at the University of North Carolina-Chapel Hill. She has researched, taught, and presented on the Myers-Briggs Type Indicator; gender differences; social-cognitive development, particularly in the area of friendship relations; and the relationship of psychology and religion.
To learn more about Marywood University's Annual Community Leadership Celebration, please visit marywood.edu/clc, or call (570) 348-6238.