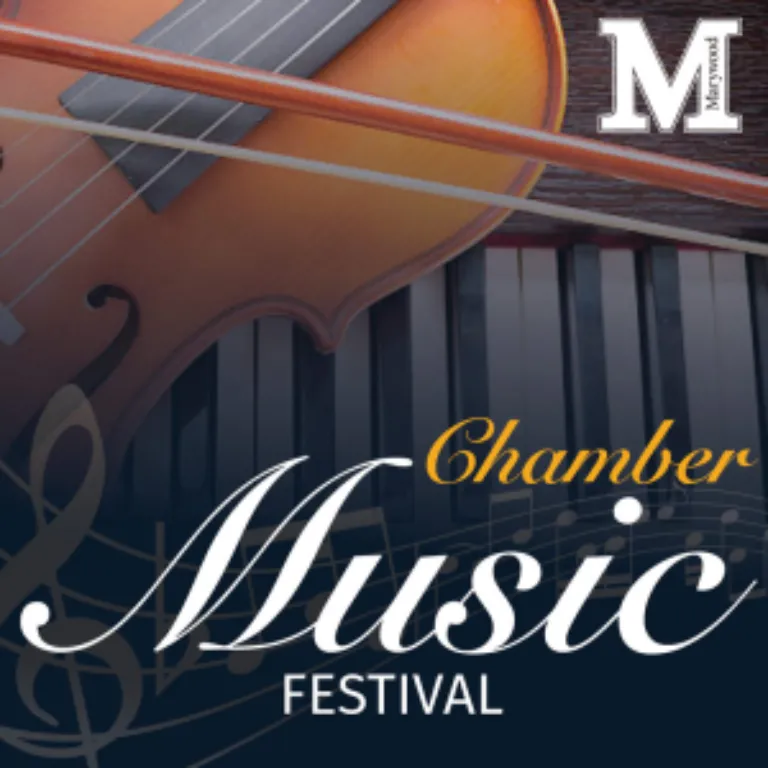 Chamber Music Festival Announced
Marywood University's music, theatre, and dance department will present a three-day Chamber Music Festival, September 24, 25, and 26. This festival, given by professional chamber musicians, is being presented as a "welcome back to live performances festival" for the greater Scranton community. All concerts will be held in the Marian Chapel, Swartz Center, at Marywood University and are free and open to the public. The festival will include a weekend of outstanding chamber music, featuring Marywood music faculty and guest artists, including: Sophie Till and Jennifer Reuning Myers, violin; Christiane Appenheimner Vaida, cello; and Ron Stabinsky and Eun Sil Suh, piano. The Chamber Music Festival's featured concerts include: An Evening of Violin Duos (Friday, September 24, at 7 p.m.); An Evening of Trios by Women Composers (Saturday, September 25, at 7 p.m.); and Violin and Piano Duos (Sunday, September 26, at 1 p.m.).
For additional about the Chamber Music Festival and other performances at Marywood University, please visit the Music Theatre and Dance Department or call (570) 348-6268.
---
FESTIVAL PROGRAM
Friday, September 24 @ 7 p.m.

An Evening of Violin Duos
Sophie Till and
Jennifer Reuning Myers – Violin
Eun Sil Suh – Piano

Trio Sonata in C major, DürG 13

Adagio
Alla Breve
Largo
Gigue (Presto)

J. Gottlieb Goldberg (formerly attributed to JS Bach)

Sonata for Two Violins in C major, Op. 56

Andante cantabile
Allegro
Commodo (quasi allegretto)
Allegro con brio

S. Prokofiev

44 Duos for Two Violins, Sz. 98

A selection

B. Bartók

INTERMISSION

V Pieces for Two Violins

Prelude
Gavotte
Elegy
Waltz
Polka

D. Shostakovich

44 Duos for Two Violins, Sz. 98

A selection

B. Bartók

Suite for Two Violins for Two Violins and Piano, Op. 71

Allegro Energico
Allegro Moderato
Lento Assai
Molto Vivace

M. Mowskowski
Saturday, September 25 @ 7 p.m.

An Evening of Trios by Women Composers
Sophie Till – Violin
Christiane Vaida – Cello
Ron Stabinsky – Piano

Piano Trio Op. 17

Allegro moderato
Scherzo, tempo di minuetto
Andante
Allegretto

Clara Schumann

INTERMISSION

Piano Trio Op. 150

Allegro
Lento espressivo/Presto
Allegro con brio

Amy Beach

Piano Trio (1921)

Moderato ma appassionato
Andante molto semplice
Allegro vigoroso

Rebecca Clarke
Sunday, September 26 @ 1 p.m.

Violin and Piano Duos
Sophie Till and Ron Stabinsky

Violin Sonata in C Major, K 296

Allegro Vivace
Andante sostenuto
Rondo: Allegro

W. A. Mozart

Violin Sonata No 1 for Violin and Piano

Andante
Allegretto
Largo
Allegretto

A. Schnittke

Recitative and Scherzo – Caprice, Op. 6

F. Kreisler

INTERMISSION

Fantasy for Violin and Piano in C Major, D. 934

F. Schubert

Sonata No 2, M.77

Allegretto
Blues: Moderato
Perpetuum Mobile: Allegro