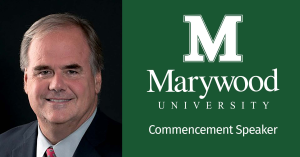 Educational Leader to Speak at 2022 Commencement
A leader in education, workforce development, volunteer service, and public policy over the last four decades, Thomas P. Foley, J.D., current president of the Association of Independent Colleges and Universities of Pennsylvania (AICUP), an association of more than 90 independent, nonprofit colleges and universities in Pennsylvania, will address graduates at Marywood University's commencement ceremony on Saturday, May 14, 2022, 1 p.m., at the Mohegan Sun Arena in Wilkes-Barre, PA.
One of 12 siblings and the grandson of Irish immigrants, Foley is a first-generation college graduate, who merited scholarships from Dartmouth College, University College in Dublin, Ireland, and Yale Law School, where he earned his Juris Doctorate. While on leave from Yale, he spent two years as a full-time volunteer with the Nobel Prize winning Peace People in Belfast, Northern Ireland, at the height of that country's Troubles. He co-founded the non-partisan Committee on the Administration of Justice and continued to volunteer, work, and write on those issues for the next 30 years.
He was the youngest Secretary of Labor and Industry in Pennsylvania history, serving under Governor Robert P. Casey. After that, he joined the U.S. Labor Department, leading efforts on lifelong learning and workplace safety and earning the Secretary's Award for Exemplary Public Service. As President of the United Way of Pennsylvania, Foley was a key leader in efforts that resulted in the first statewide public investment in preschool education. Currently, he is co-chair of the Governor's Early Learning Investment Committee.
For nearly a decade before he became president of AICUP, Foley was the president of Mount Aloysius College, Cresson, PA, named by the White House as one of four "Engines of Opportunity" in the nation for its work with low-income students.
Additionally, his professional background includes service in both the executive and legislative branches of the federal government, where he worked for Congressman James Shannon and then-Senator Joseph Biden. He did intensive work in Washington, D.C., on issues involving peace and justice in Northern Ireland and Central America, and he has written on a wide range of public policy topics, including issues on justice, foreign policy, preschool education, sports, workforce development, and Irish history.
Honored for his work in a broad range of fields, Foley was named a Top 100 Irish American in both education and law (one of only two to receive both honors), is the recipient of the Centennial Medal for Service, the Liberty Bell Award, numerous humanitarian awards, and serves as an honorary member of the Philadelphia Fire Department.