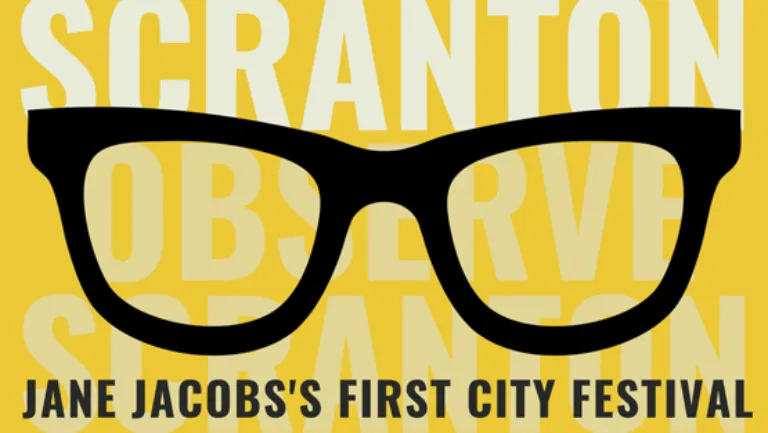 Observe Scranton - weeklong program of events celebrating our community
Marywood University and The Center for The Living City announce, Observe Scranton, a weeklong program of events. The community festival celebrates Scranton through the eyes of Jane Jacobs, a hometown iconic city activist, on what would be her 105th birthday. Free community exhibits located throughout the city, in collaboration with the Lackawanna County Library, Marywood University, the City of Scranton, other local colleges and universities, and many private community-minded developers, organizations, and businesses, include:
Tuesday, May 4, 2021
The festival will kick-off with Jane Jacobs Day & Flag Raising at Scranton City Hall, at 10 a.m., 340 N. Washington Ave., Scranton. Join Sister Mary Persico, IHM, Ed.D., president of Marywood University, Scranton Mayor Paige Cognetti, and the Center for the Living City for the inaugural Jane Jacobs Day Proclamation, a day of community conversations and gatherings, along with the Jane Jacobs flag raising on what would have been her 105th
A book launch will take place at 6:30 p.m., in the theater at Lackawanna College. Author Glenna Lang will give a slide presentation to celebrate the publication of her book, Jane Jacob's First City: Learning from Scranton, Pennsylvania.
Wednesday, May 5, 2021
The Jane Jacobs Walk will take place at the Forest Hill Cemetery, at 2 p.m., at 1830 Jefferson Avenue, Dunmore, Pa. Join the cemetery's caretaker and archivist, Norma Reese, for a fascinating tour of Scranton's first landscaped cemetery, founded in 1870.
The Architecture and History of Lackawanna Avenue will be explored at the Jane Jacobs Walk, at 5:15 p.m., at The Marketplace at Steamtown, 300 Lackawanna Avenue, Scranton. Architect and local historian, Richard Leonori, will lead a several block walk along Scranton's main downtown street, laid out as part of the original plan for the city in the 1850s.
Book signing at Library Express Bookstore will take place at 6:15 p.m., with author Glenna Lang, who will read passages from Jane Jacob's First City. The book signing will take place at The Marketplace at Steamtown Mall, 2nd floor, 300 Lackawanna Avenue, Scranton.
A Community Conversation: A Scranton City Dialogue will take place from 6 – 7:30 p.m., via Zoom. Those interested can register at ObserveScranton.com. An inspired community conversation focusing on questions and themes Jane Jacobs raised in a seminal 1987 letter to the City about "what Scranton is, has been, and can be." This event is hosted by The University of Scranton and city partners.
Thursday, May 6, 2021
From 10 a.m. – 2 p.m. a virtual event, Blue Zone + the Built Environment, will be provided. Those interested can register by emailing Brown@sharecare.com with the session the participants plan to attend including:
10 – 11:15 a.m., Built Environment – Government. Discussions targeted to government and planning leaders for public works, economic development, walking and bike infrastructure, public safety, and more.
11:30 a.m. – 12:45 p.m.: Built Environment – Policy Advocates: Discussion targeted to walk and bike advocates, neighborhood associations, chamber of commerce reps, and more.
1 – 2 p.m.: Blue Zones for Elected Officials: Discussions targeted to mayors, city councils, county commissioners, and state and federal representatives, as well as the public.
A Book Reading with Glenna Lang and community members will take place at 5:30 pm., at the Lackawanna County Courthouse, across from the iconic Electric City sign. Accompanied by special guests, author Glenn Lang will provide an outdoor book reading of Jane Jacob's First City, followed by an audience Q&A and book signing.
Friday, May 7, 2021
First Friday Scranton, from 5-9 p.m., will feature a wide variety of cultural events found in some of the city's best restaurants and cafes, as well as galleries, boutiques, and other small businesses.
Interactive Exhibit, from 5 -7 p.m., at the Observe Scranton headquarters, 546 Spruce Street, in the Scranton Life Building. During the First Friday event, attendees are encouraged to share their thoughts about the past, present, and future of Scranton.
The Inaugural Community Night Light Ride will take place at 8:30 p.m., with registration at 7:30 p.m. Those interested will meet at the corner of Adams Avenue and Spruce Street. A fun evening bicycle ride through the city of Scranton will take place. Attendees are encouraged to decorate their bicycles with lights.
Saturday, May 8, 2021
A Jane Jacobs Walk will take place from 10 – 11 a.m., at 1712 Monroe Avenue, Dunmore, the childhood home of Jane Jacobs. Architect and longtime Dunmorean, John Cowder, will retrace Jane's routes to her neighborhood school, the potato chip factory in the alley, and other mom-and-pop stores she and her family and friends frequented.
Scranton StorySlam with Scranton Fringe will take place at the Scranton Cultural Center, 420 N. Washington Avenue, Scranton, at 7 p.m. Doors open at 6 p.m. Scranton StorySlam is a celebration of diverse voices, welcoming all to share their stories of triumph, disappointment, humor, and heartbreak with supportive audiences. Featured storytellers include Amber Viola, Chris Kelly, Glynis M. Johns, Gerard Hetman, Laureen M. O'Handley, Terry Thompson, and Jessica Rothchild, Ph.D., as well as many others.
For additional information about Observe Scranton events with Center for The Living City and Marywood University, please visit ObserveScranton.org.