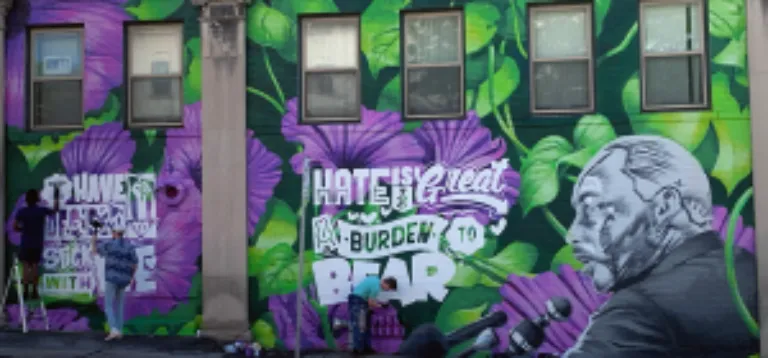 Marywood Alumni Unveil Mural Project at First Friday Event
Marywood University alumni, Emmanuel Wisdom Adjei, bachelor of fine arts in graphic design graduate, and Eric Bussart, bachelor of fine arts in illustration graduate, have revealed their mural, "The Dream," of Dr. Martin Luther King, Jr., at the City of Scranton's First Friday event on July 2, 2021, at 5:30 p.m. The mural is located at the intersection of Adams Avenue and Mulberry Street, Scranton, Pa.
Scranton Tomorrow sponsored the grant that funded the mural project and also organized the unveiling. The mural, which occupies the entire side of a building, as well as the imagery and messaging, is aesthetically outstanding and powerful.
Inspired by Martin Luther King (MLK), Jr., "The Dream" pays tribute to the American civil rights leader who changed the world. Artist Eric Bussart incorporated morning glory flowers into the design because they are resilient, just as his hero, MLK, was. With lettering by artist Emmanuel Wisdom Adjei, the mural encompasses a wide array of interests, including diversity, positive messaging, inclusion, urban gentrification, and art. The messaging and art work conveys a timeless message for the greater community, enhances the aesthetic appeal of the city, and showcases how graduates of Marywood University's art programs are applying their talent and creativity to elevate humanity, a universal, as well as a Marywood, core value.
Scranton Tomorrow is a nonprofit, nonpartisan community and economic development organization working to establish Scranton as the premier urban center of Northeastern Pennsylvania. A volunteer-based organization whose members are as diverse as the greater Scranton community, Scranton Tomorrow volunteers and supporters include business leaders, public officials, entrepreneurs, property owners, developers, educators, artists and community partners—all united in a love for the City of Scranton and a commitment to reach its greatest potential.
Marywood University art department students are involved intensely in self-discovery, self-evaluation, artistic research, and professional presentation of products. As a result, the art students at Marywood University develop a sense of responsibility, empathy, and professionalism, which then is reflected by commitment and involvement as a professional in the larger community.