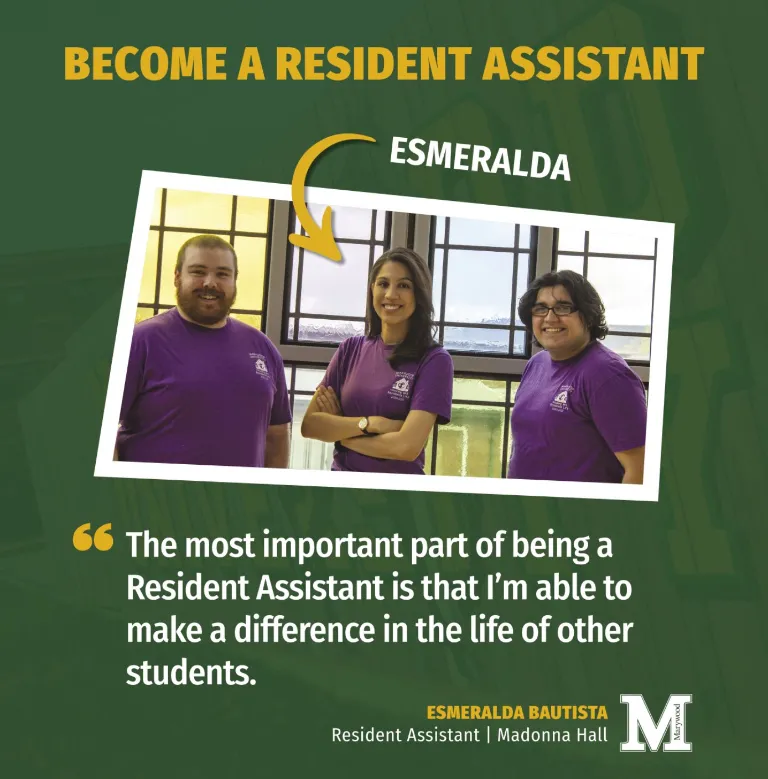 In the Process of Helping Their Fellow Pacers
The benefits of serving as a Resident Assistant or Resident Director at Marywood University are invaluable as they relate to the development of leadership, communication, and time management skills. However, for Joseph Pechulis, Resident Director in Loughran Hall; Thomas Flynn, RA in Loughran Hall; Gina Nolan, RA in the Woodland Residences; Esmeralda Bautista, Resident Assistant in Madonna Hall; and Juan Cardenas, Resident Assistant in Regina Hall, it's the interpersonal relationships and the opportunities to help other students to have the best college experience that make all the difference for them.
RDs and RAs are undergraduate or graduate students who are selected on the basis of leadership ability, communication skills, interpersonal relationship skills, and those who have an expressed interest in developing a sense of community among residents on campus. RDs work with the RAs and put together their schedules for work, as well as supervise some of the more sensitive situations.
For Joseph Pechulis, Ph.D. student in Strategic Leadership and Administrative Studies, who now serves as an RD at Marywood, becoming an RA was something that had evolved out of his own experiences as an undergraduate student. While having his own unique situation with his roommate during his undergraduate studies at another college, he sought the guidance of his then RA, who helped alleviate the situation, and later mentored and encouraged Joseph to become an RA.
Joseph said, "Don't be afraid to step out of your comfort zone. While I was, and continue to be, an extrovert, I appreciate my own personal time, so I went in with an open mind. Through the experience of serving as an RA, I learned the value of my personal time and learned to appreciate it more."
RAs and RDs are often the unsung heroes on campus, serving other students in multiple capacities. Depending on the start date of the RA or RD, training sessions are scheduled for each of the roles during the spring and fall semesters. Those who are veterans in the role get refresher training, while others entering their RA or RD roles get immersive training so they can take on their important roles with confidence.
Knowing that these opportunities are available to those interested in exploring them is important information that needs to be shared via multiple outlets and by numerous campus community members. Juan Cardenas, junior environmental science student and RA in Regina Hall, learned about the RA program while he was a student in high school from one of his teachers.
Juan said, "My teacher saw that I was very friendly and positive with other students and conveyed to me that being an RA would give me the opportunity to both live on campus and help other students. I thoroughly enjoy meeting new people during orientation and meeting residents and getting to know them."
The process of becoming an RA or RD begins with an application, which is then followed with an interview. For those new to interviewing, it can appear to be a daunting process, but, once the interview begins, any sense of unease is dispelled.
Gina Nolan, senior interior architecture student and RA in the Woodlands Apartments said, "The interview process seemed nerve-wracking to me prior to being interviewed. Once I walked into the interview and began to market myself and 'just be myself,' the whole process seemed effortless. Plus, it gave me the confidence to know how to apply what I learned from the RA interview to future job interviews."
While the reasons for becoming an RA or RD are varied, the common theme among all of our current RAs/RDs is that they wanted to belong to something that enabled them to make a difference on their college campus.
Esmeralda Bautista, senior architecture student, and Hannah Decker, sophomore undeclared student with an interest in Psychology, both conveyed the importance of being supported by a strong network of other RAs and RDs, but also serving as a role model for fellow students.
Esmeralda said, "I wanted to give back to the community of Marywood University. I dreamed of being a role model and a part of the support system of the residents the same way my RA was to me during my freshman year of college."
Serving as an RA or RD at Marywood University features many benefits—the main one being that room and board are covered. This makes a huge impact for someone who wants to reside on campus, but who may not be able to financially cover that expense. Beyond room and board, there are other equally important benefits.
Thomas Flynn, senior financial planning and management major and RA in Loughran Hall, said, "Beyond room and board, there are so many benefits of being an RA, including the amazing connections that you are able to form with residents and other staff members, the ability to build leadership skills and abilities, gaining job-relevant skills that will help me in my future career, and being able to serve as a resource for residents, so they can make their own connections on campus."