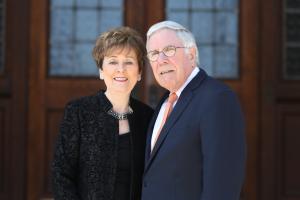 Jim and Cathy Gavin to be Honored at Eighth Annual Community Leadership Celebration
Marywood University's Eighth Annual Community Leadership Celebration, Inspiring Social Justice, will honor Jim and Cathy Gavin of Scranton. The Celebration will take place on the University's campus in the Motherhouse and Seminary Morgan Memorial Garden on Thursday, June 10, 2021, where they will be awarded the 2021 Lead On Award.
Inspiring social justice is a theme that unites Jim and Cathy, the Gavin and Walsh families, and the IHM Congregation in common purpose. In furtherance of that common purpose, Marywood University sets the standard for educating and preparing our youth for a successful and meaningful role in society.
Mr. and Mrs. Gavin have a lifelong relationship with the Sisters Servants of the Immaculate Heart of Mary Congregation beginning in grade school at Chapel and Holy Rosary schools in the 1950s. This relationship has flourished over seven decades.
Mr. Gavin graduated from the University of Scranton in 1971, following three years of active military service. He earned graduate degrees in Social Work and Management from Marywood in 1973 and 1985. A professional social worker, Mr. Gavin worked in the behavioral health field for 47 years in clinical as well as management positions. He recently retired after 21 years as President/CEO of Community Care Behavioral Health Organization, a UPMC insurance company, and is currently a Senior Advisor to executive leadership. Elected to the Marywood University Board of Trustees in 2014, Mr. Gavin is a member of various committees serving as Treasurer and Chair of Finance since 2016.
Mrs. Gavin began a lifelong career in the restaurant business at Stirna's Restaurant in 1967. After a short stay at The Scranton/Lackawanna Human Development Agency she returned to her true passion, Stirna's Restaurant. In 1980, with the support and assistance of a friend and attorney, she purchased the business and remains its sole proprietor today. During the next 40 years, Mrs. Gavin began and managed what is today a thriving catering business. She also negotiated and managed the food service contract for Lackawanna College. In 2008, on the 100th anniversary of Stirna's Restaurant, with the help of her son Michael, she totally renovated the West Market Street facility. Today, the restaurant and catering businesses continue to thrive under their management and supervision.
During Jim and Cathy's fifty years of marriage, their focus has been on family, church, and community. They have two children, Kate and Michael, and two grandchildren, Gavin and Grace. They are proud members of the Gavin/Walsh families, who are collectively committed to the missions and work of the IHM Congregation.
Mr. and Mrs. Gavin are active on numerous boards dedicated to the health and welfare of the citizens in Lackawanna and Allegheny counties.
For additional information on the Eighth Annual Community Leadership Celebration at Marywood University, to inquire about sponsorship opportunities, or to buy tickets to the event, please visit the Community Leadership Celebration website, or call 570-348-6238.