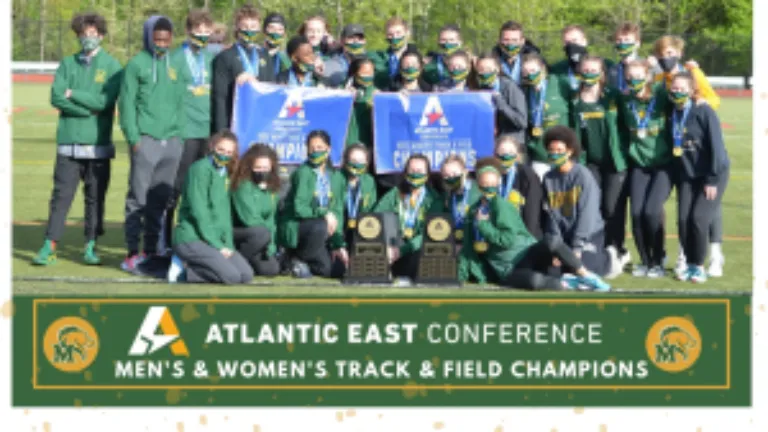 Marywood Women's Track & Field Wins Second Atlantic East Conference Championship
Marywood University won its second Atlantic East Conference Women's Track & Field Championship on Saturday at Gwynedd Mercy University. The Pacers collected 257 points and 11 gold medals to pave the way to a repeat title performance.
Marymount University finished runner-up with 96 points. Gwynedd Mercy University scathed out a one-point advantage over fourth-place Immaculata University. Neumann University was fifth.
Three Pacers finished with a pair of individual titles in their events.
Kristen Persico won the hammer and javelin throws. Persico's hammer measured at 108 feet, 11 inches (33.2m). Her javelin throw distanced at 104 feet, 4 inches (31.8m). Persico also took second place in the discus throw at 95 feet, 6 inches (29.1m) and shot put at 31 feet, 10 inches (9.7m).

Shae Smith made her mark in her first conference meet with wins in the long and triple jumps. She extended the measuring tape to 16 feet, 5 3/4 inches (5.02m) in the long jump. It set a personal record by .25 meters and tied for the second-farthest mark in school history. Smith won the triple jump at a distance of 34 feet, 5 inches (10.49m). She was also second place in the 100 hurdles, finishing at 17.29 seconds against heavy wind.

Katie Shea fashioned victories in the 1,500 and 5K events. She won the 1,500 in 5:14.86, and Shea reclaimed her 5K title in 19:55.63.

In the short-distance events, Maryam Hamidi had three outstanding performances to build her case for Track Athlete of the Year. Hamidi sprinted to a 13.27-second finish in the 100 dash, marking the fifth fastest time in Marywood history. She claimed second in the 200 dash at 27.83, a mere two-hundredths of a second shy of a record breaker. Hamidi recorded a runner-up performance with a 400 time of 1:03.79.

Marywood swept both relay events. The group of Smith, Hamidi, Julia Van Horne and Chesna Andrade-Foster won the 4x400 in 4:15.99. In the 4x100, Smith, Andrade-Foster, Hamidi and Caitlin Mills recorded a 52.-second run to finish top of the conference.

Chesna Andrade-Foster cleared 7 feet, 4 1/2 feet (2.25m) to win a gold medal in the pole vault.

Sarah Lynch outraced the 10K field for her first conference championship. Lynch completed the race with a time of 46:34.29 in her first time competing in the event.

Marywood's most noteworthy record book performance came from Cydney Lahr in the 800. Lahr's third-place run of 2:29.1 dropped three seconds off her previous best and established the second-fastest performance in school history.

Caitlin Mills was just four-hundredths of a second shy of the 100 dash with a second-place showing of 13.31 seconds. Van Horne took home a silver medal by crossing the 400 hurdles finish in 1:10.05. Taylor Seprosky set a 22-second personal record in the 3K Steeplechase, notching second place in 14:26.79.

On the field, Brianna Roth was just a hundredth of a meter short of reaching the high jump record book. Roth was second place at a height of 4 feet, 5 inches (1.35m). She was also the runner-up in the triple jump, measuring at 31 feet, 7 inches (9.52m).

Madi Howell made the best of a busy day (competing nine different times) with a second-place performance in the pentagon with 2,119 points. Howell set a new personal record by 2 feet with a third-place triple jump of 30 feet, 11 1/4 inches (9.43m).
Alyssa Williams had a pair of personal records. She beat her 1,500 personal record by six seconds (5:25.52). Williams erased 15 seconds from her 5K best with a time of 21:05-flat. Williams was fourth in both events.
Marywood will compete at Johns Hopkins University's last chance meet this week, prior to the AARTFC Championships in Rochester, N.Y. later this month.