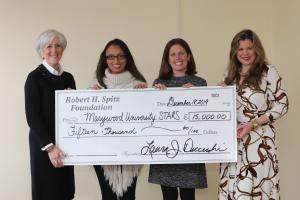 S.T.A.R.S Receives Robert H. Spitz Foundation Grant
Marywood University is the recent recipient of the 2019 Robert H. Spitz Foundation Grant. The grant was awarded to the S.T.A.R.S (Students Together Achieving Remarkable Success) program, an after-school mentoring/homework help program. The Robert H. Spitz Foundation has made a positive impact on Scranton's growing Latinx population through its grant support of the University's S.T.A.R.S. program.
Marywood students mentor Latinx youth in grades 7-12 to bring more awareness to the options that exist in higher education to help them define future goals. Staff and volunteers create mentoring themes, ideas for youth and parent workshops, and help conduct volunteer training with a focus on mentoring and cultural awareness. With additional funding from The Robert H. Spitz Foundation 2019 grant, several academic departments will host S.T.A.R.S. youth to introduce them to various majors and hands-on activities, affording students and their families more exposure to the opportunities that exist at Marywood University.
Emily Coleman, S.T.A.R.S. program coordinator said, "One of our goals is to engage Marywood University student volunteers in a reciprocal learning experience with Latinx students and their families, which increases their community collaboration skills and commitment to service. We are able to see how much these student volunteers learned through the year and through surveys given to the volunteers."
The Robert H. Spitz Foundation is a registered nonprofit organization that supports initiatives and programs serving the residents of Lackawanna County and Northeastern Pennsylvania. Robert H. Spitz was born in Scranton and was a 1955 graduate of Scranton Central High School and the University of Miami, Florida. Prior to retirement, Spitz had been employed by the U.S. Department of Labor and was also the owner of several local Arby's restaurants. The Robert H. Spitz Foundation was established from his estate in 2015. To date, the Foundation has provided more than $1.3 million in funding to the community.
Learn more about the The Robert H. Spitz Foundation
LEARN MORE ABOUT THE S.T.A.R.S. PROGRAM
Photo ID: (left to right): Patricia Rosetti '93, leadership annual giving officer; Jenny Gonzalez, S.T.A.R.S. program coordinator; Emily Coleman, academic support specialist for English language learners; and Laura Ducceschi, president and CEO of the Scranton Area Community Foundation, and administrator of Robert H. Spitz Foundation.
While the STARS Program's focus is on Latinx youth, the program is open to all students in grades 7 through 12 regardless of race, color, and national and ethnic origin.
Marywood University admits students of any race, color, national and ethnic origin to all the rights, privileges, programs, and activities generally accorded or made available to students at the school. It does not discriminate on the basis of race, color, national and ethnic origin in administration of its educational policies, admissions policies, scholarship and loan programs, and athletic and other school-administered programs.