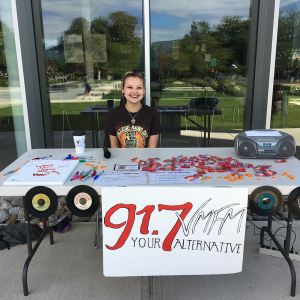 VMFM 91.7 Voted Best College Radio Station
Marywood University's student-run radio station, VMFM 91.7, was voted "Best College Radio Station" by AccessNEPA.com. This is the 16th time that VMFM has merited top honors in this regional contest.
VMFM 91.7 features alternative music and other music genres, including rock, jazz, and Christian, and gives production, on-air, and management experience to students. Additionally, it is the only station in Northeast Pennsylvania with an alternative music format. Student disc jockeys also develop specialized programming, including R&B, country, and talk shows. VMFM 91.7 is on air 24/7 and also streams online. During the holiday season, the station plays commercial-free Christmas music, 24/7, from the date of Marywood's Christmas Tree Lighting through New Year's Eve.
You can listen locally to VMFM 91.7, download the Tune In App to your mobile device, or stream online to hear the Best College Radio Station in Northeastern Pennsylvania.