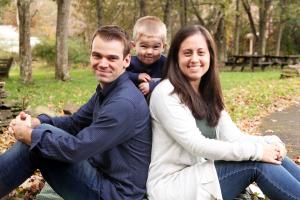 Understanding Caregivers' Perspectives
For Marywood University senior pediatric rotation nursing students, listening to and learning from a caregiver reinforces lessons learned in the classroom and through textbook reading, but it also provides students with a glimpse into the lives of families who are caring for children with medical conditions.
Each year, Amy Wescott, MSN, CRNP, assistant professor of nursing practice at Marywood University, invites Dan and Joy Nichols to her pediatric rotation nursing class, where the Nicholses share their journey and their son Landon's story.
Ms. Wescott said, "Landon's story drives home the reality of the difference skilled surgeons and nurses make in the life of a child with a life-threatening congenital heart defect. The students listened to Dan and Joy, and the nursing concepts that they learn from their texts and lectures regarding the care of a pediatric heart patient are reinforced."
Landon Nichols, now five years old, has been fighting HLHS (Hypoplactic left heart syndrome), a birth defect that affects normal blood flow through the heart. As the baby develops during pregnancy, the left side of the heart does not form correctly. HLHS is one type of congenital heart defect—congenital means present at birth. Landon has required three open heart surgeries, and the Nicholses walk through their journey as caregivers with Marywood's pediatric nursing class.
Mr. Nichols said, "We've been asked to talk with Marywood nursing students for five years, but this is the first time that we did so digitally. We convey how to face life challenges through faith, especially this year, and how we personally know that God is with us and for us even at times when we find our faith being challenged."
Mr. and Mrs. Nichols' talk with Marywood pediatric nursing rotation students includes a Q&A, which is heavily focused on students asking many questions about medications. Since the talk was offered digitally this year, five-year old Landon also made a few guest appearances.
Karine Quintilliano, senior nursing student said, "This family has been through a lot with their son, yet they still bring hope to me. I especially loved when Landon wanted to show his new socks to us. I loved this experience."
Emily Nicastro, senior nursing student said, "It was a pleasure having the Nichols family join our pediatric lecture to talk about Landon's HLHS, a congenital heart defect. They have pushed through their struggles with their strong faith—it was inspiring. As nursing students, we take on the view from a clinical perspective, and the Nichols family allowed us to see it from their view which is more personal. This reinforced the importance of developing a rapport with your patients."
Shawanna Tart, a senior nursing student with three children of her own, found the lecture very interesting. She said, "I had so many questions, and they answered them all without getting annoyed. What made it real was to see that little boy [Landon] popping around like nothing was ever wrong. What a blessing it was; I am thankful for the experience."
For the Nicholses, the journey continues, and they find that their experiences can prove to be useful for future medical professionals. Mr. Nichols said, "We enjoy being able to share our journey and give students the caregivers' perspective. We share how God is always faithful to us and how the medical teams at the Children's Hospital in Philadelphia showed us, in a professional way, that they care about our son, and they are not just going through the motions."
Marywood University's Nursing department provides both academic and clinical coursework to prepare students to provide health care services in a variety of settings. Graduates of the undergraduate program have unlimited opportunities in hospitals, schools, and nursing home settings. Other areas of practice include pharmaceuticals, research, consulting, management, and administration. Bachelor of science graduates in nursing may choose to continue their education in pursuit of a career as a nurse practitioner, nurse anesthetist, or educator.
For additional information about Marywood University's Nursing program, please visit https://www.marywood.edu/nursing-bachelors-degree, or call the Office of Admissions, at (570) 348-6234. To learn more about "Help Landon Fight HLHS," please visit facebook.com/LandonHiramNichols.