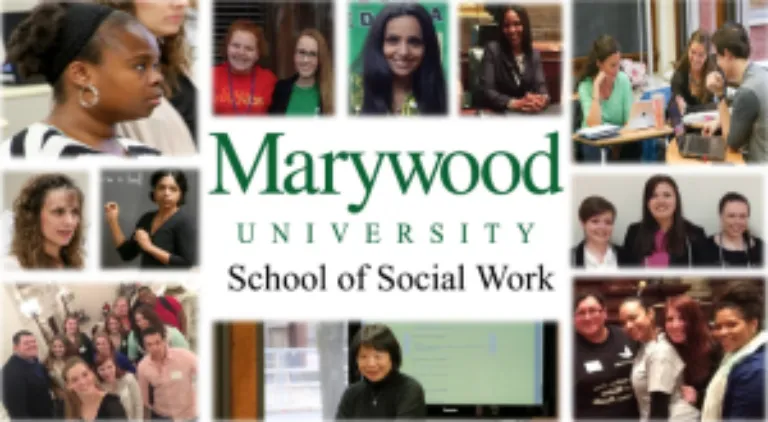 MSW Students' Creativity Assists Community Members During Pandemic Crisis
Marywood University master of social work (MSW) students, at both its Scranton and Lehigh Valley locations, were able to meet their course requirements while serving community members. By providing vital services for needy individuals, families, and children in their communities, students taking the "Social Work Practice with Communities and Organizations" course in the School of Social Work transformed their class experience into humanitarian action.
This graduate-level course requires students to engage in a community change project. Every student needs to identify a change that is needed in their community and then plan, organize, and implement an action to either remove or resolve the identified issue. The difference during this term was that students were also faced with dealing with the restrictions put in place as a result of the COVID-19 pandemic.
Sister Angela Kim, IHM, associate professor of social work at Marywood University, said, "These amazing students used their brilliant creativity and impressive humanitarian action for the common good during a global crisis."
Utilizing her employment-based project: "Wayne County Children & Youth Services Response to deliver breakfast and lunch to school children during the COVID-19 pandemic," Heather Schariest, Scranton MSW student, along with her co-workers, organized a team of volunteers to pick food up from local schools and make deliveries at each child's home. In some instances, workers also delivered homework assignments for children who didn't have internet access.
Christine Bazur, Scranton MSW student, helped employ a volunteer "Grab and Go" volunteer effort at Riverside School District, which served bag breakfast and lunches to families. She initially volunteered daily at the school district and then, when the program effort expanded, she assisted with packaging food that would encompass three days' worth of meals.
Ashlee Sakowski, Scranton MSW student, organized a "Go Fund Me" by setting up and reaching out to her coworkers and families and friends to collect baby food and supplies for lower income mothers in her community. Ms. Sakowski's "Baby Baskets," which included items such as diapers, wipes, baby formula, etc., provided more than ten different new mothers with much-needed baby supplies.
Aimee Smith, Scranton MSW student, also organized and set up a "Go Fund Me" to purchase books for Helping Hands Society, Hazleton, Pa. Helping Hands Society serves 150 intellectually and developmentally challenged children, ages 3-10. Ms. Smith was able to purchase 150 children's books as a result of the fundraiser. The books will be delivered following the lift of restrictions put in place as a result of COVID-19.
Recognizing the need for mental health resources as a result of the pandemic, Gerry Lynn Butler, Scranton MSW student, provided two mental health resource links to help during the current crisis. The target population for the project includes school-aged children, from kindergarten through high school, as well as parents and professionals. The Coping Crisis resource link has had 520 visitors in 144 locations, including 17 different states, as well as Washington, D.C., Puerto Rico, and Ireland.
What began as a project at the Women's Recovery House to assist women to build a sense of purpose and to help foster positive connections in the community as women move through the recovery process, was transformed by Corey McCann, Lehigh Valley MSW student, into a Community Garden Project. Due to the stay at home order, the project helped the women at the recovery house to find their personal strengths, and it promoted team work to promote a sense of ownership.
The goal of "Leaving No One Hungry," inspired Stacie Searle, Lehigh Valley MSW student to reimagine her initial project of finding ways to ensure that the homeless and less fortunate population in her community were properly nourished during the pandemic. Originally, Ms. Searle had planned to align larger organizations and groups of youth to work to build resources for local soup kitchens, but, with COVID-19 restrictions, she adjusted her plan and continued to work with the local soup kitchen, as well as utilizing a social media application to reach out into the community to raise donations that enabled the kitchen to run throughout the week.
Marywood University's School of Social Work MSW Program is the leading provider of MSW education in Northeast Pennsylvania. Accredited by the Council on Social Work Education, the School prepares students for culturally competent, ethical, inter-professional practice with individuals, families, groups, organizations, and communities. Offering a blend of traditional, online, and hybrid courses, as well as a full range of field education experiences, Marywood's social work graduates embark on rewarding careers in behavioral health, gerontology, children and family services, developmental disabilities, administration, and health care.