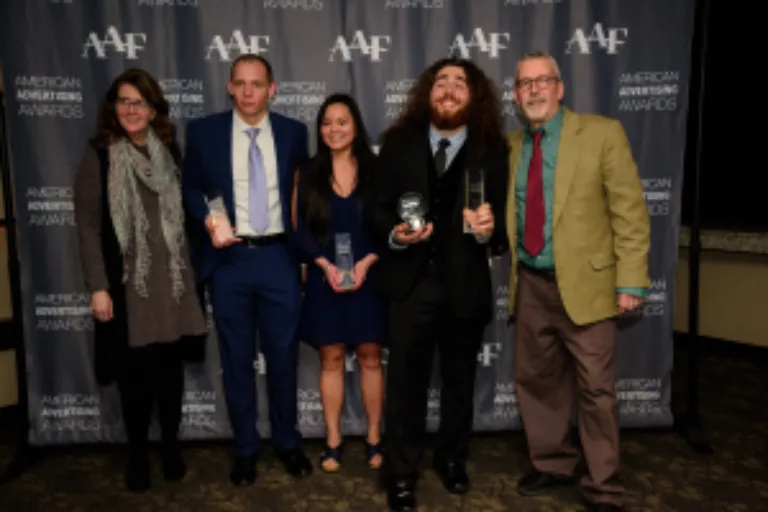 Marywood Students Top the Advertising Field
In 2020, Marywood University graphic design students and a graduate, including Alexander Jubinski, senior, Dalton, Pa.; Amanda Focht, 2019 graduate, Philadelphia, Pa.; and Matt Catanzaro, senior, Peckville, Pa., won top awards at the NEPA American Advertising Federation (ADDY) 2020 Awards Ceremony. This year, the ADDYs were held at The Woodlands Inn, Wilkes Barre, Pa.
Alexander Jubinski won a silver award for his packaging design, Amanda Focht won gold and Best of Show for her mobile or web-based app, and Matt Catanzaro won gold and the Judge's Choice award for his packaging design. Both Amanda Focht and Matt Catanzaro have advanced to the American Advertising Federation regional and national competitions.
The American Advertising Awards is the advertising industry's largest and most representative competition, attracting more than 40,000 entries every year in local American Advertising Federation competitions. The mission of the ADDYs is to recognize and reward the creative spirit of excellence in the art of advertising.
Marywood University's graphic design program provides students with an environment that supports and encourages both personal and professional development. Students in the program have 24-hour access to two fully-equipped computer labs, loaded with industry-standard software. Cutting-edge darkrooms and photography studios are also available for student use.