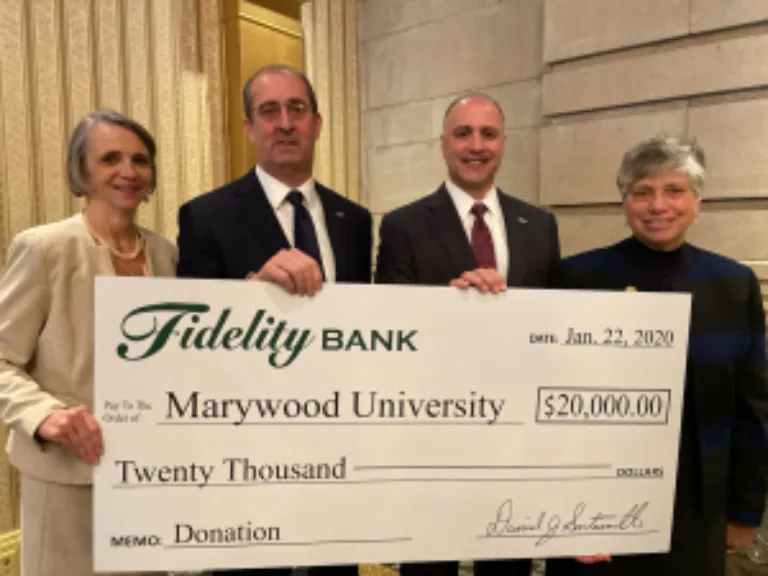 Marywood University Receives EITC Donation
Marywood University recently received a Pennsylvania Education Improvement Tax Credit donation in the amount of $20,000 from Fidelity Bank through the University's Momentum program. The Momentum program is an approved EITC program that gives high school juniors and seniors the opportunity to earn college credits by enrolling in college level courses at a significantly reduced cost.
The EITC program enables companies to support nonprofit schools at minimal cost. Rather than sending tax dollars back to the state, companies can reallocate them to support Marywood University's Momentum Program. Participating businesses can receive a tax credit equal to 75 percent of a contribution, up to $750,000 per year. The credit increases to 90 percent if the business agrees to provide the same amount for two consecutive years.
Fidelity Bank is Northeastern Pennsylvania's most recognized neighborhood bank. Fidelity Bank is 185 bankers strong, each with the expertise and drive to build successful relationships, create long-term shareholder value, and deliver success. Because of its commitment to a set of core values including: to act with integrity, build strong relationships, demonstrate passion for what they do and who they are, constantly seeking to innovate, and to stay fully committed to each other, and to its stakeholders, Fidelity Bank's values are their standard behavior, inspiring their actions and defining how they operate both now and into the future.
Pictured (left to right) are: Tammy J. McHale, vice president for business affairs and treasurer at Marywood University; Daniel J. Santaniello, president and chief executive officer at Fidelity Bank; Salvatore R. DeFrancesco, Jr., executive vice president and chief financial officer at Fidelity Bank; and Sister Mary Persico, IHM, Ed.D., president of Marywood University.
For additional information or assistance with the EITC application, please contact Patricia Rosetti, leadership annual giving officer at Marywood University, at rosetti@marywood.edu, or call (570) 961-4596.