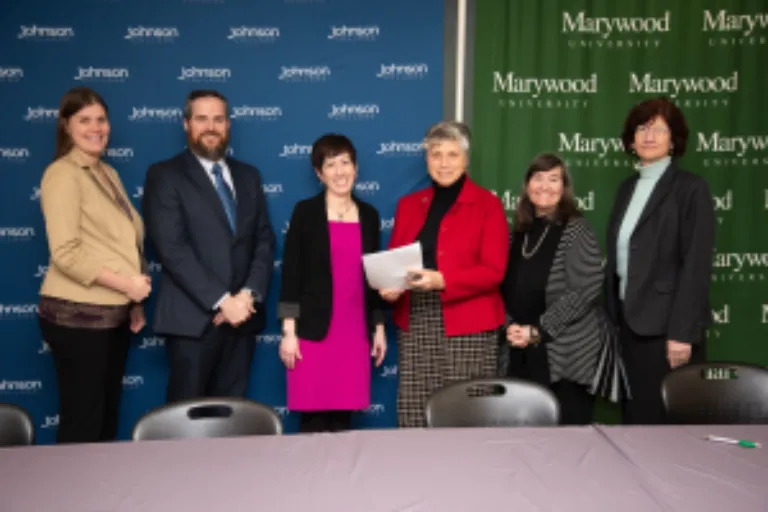 Marywood and Johnson College Sign Transfer Agreement
Marywood University and Johnson College signed an articulation agreement on Tuesday, January 21, at 1:30 p.m., in the Health Science Center at Johnson College. This agreement is the first of its kind between the two institutions. It will provide students with the opportunity to complete a two-year degree at Johnson College and then transition into Marywood University to complete a bachelor's degree or transfer credits and continue their education through the agreement, which allows for the following admission opportunities:
Graduates of Johnson College's Associate of Science in computer information technology can transfer into Marywood University's Bachelor of Science in computer science or Bachelor of Science in information security.
Graduates of Johnson College's Associate of Science in veterinary technology can transfer into Marywood University's Bachelor of Science in biology.
Students transferring into Marywood's programs must meet minimum cumulative grade point average requirements and satisfy all other transfer requirements. All agreements become effective in the spring 2020 semester. Johnson College is currently enrolling for all associate degree programs related to the agreements.
"Establishing this with Marywood University is another way that Johnson College partners to serve the community. Creating a pathway for our students to a bachelor's degree ensures that they have the opportunity to stack their credentials as a way to advance in their career. The administration at Marywood University have similar goals – they want to admit our students who have a great educational foundation to build upon." said Katie Leonard, President & CEO of Johnson College.
Sister Mary Persico, IHM, Ed.D., president of Marywood University said, "All of our regional institutions of higher education have the same goal in mind--to do what's best for our students in order for them to realize their dreams. This collaboration speaks of our desire to help our students identify their passions and turn them into purposeful lives. Working together is always a win-win."
Marywood University prepares students to have a positive impact on society at regional and global levels while providing each student with the foundation for success in an interdependent world. Marywood University is co-educational, comprehensive, residential, and Catholic. Founded in 1915 by the Sisters, Servants of the Immaculate Heart of Mary, the University serves men and women from a variety of backgrounds and religions. The University enrolls more than 2,500 students in an array of undergraduate and graduate programs. Committed to enriching human lives through ethical and religious values and a tradition of service and motivated by a pioneering, progressive spirit, Marywood provides a framework for educational excellence that enables students to develop fully as persons and to master professional and leadership skills necessary for meeting human needs.
Johnson College provides real-world, hands-on learning in a caring environment and prepares graduates to enter into or advance in their careers. Johnson College was founded in 1912, and is the region's premier technical college, offering associate degrees in 14 programs. An emphasis on hands-on instruction is supported by a low student-to-teacher ratio. Located in Scranton on a 44-acre campus, Johnson is an accredited, private, non-profit, co-educational institution with a strong tradition of working with regional business and industry to ensure a skilled and qualified workforce. For additional information on Johnson College, please call 1-800-2-WE-WORK, email admit@johnson.edu, or visit www.johnson.edu.