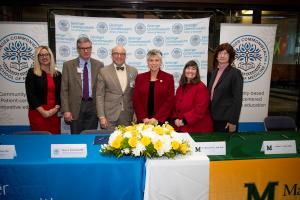 Marywood and GCSOM Sign Affiliation Agreement
Marywood University and Geisinger Commonwealth School of Medicine recently signed an affiliation agreement wherein Marywood graduates who achieve an established admissions requirement are guaranteed an interview at GCSOM for possible admission to its Doctor of Medicine (MD) program. This agreement helps eliminate obstacles to gaining admission.
Sister Mary Persico, IHM, Ed.D., president of Marywood University, said, "Here in NEPA, we observe a maze of what's referred to as the 'eds' and the 'meds'—fine educational institutions and excellent medical systems. For a very long time, we have been siloed, working at cross-purposes. This agreement is a strong step toward collaboration, which puts not only our students but also our greater community in the focal point of change for a better future."
Steven J. Scheinman, M.D., president and dean of Geisinger Commonwealth School of Medicine and executive vice president and chief academic officer of Geisinger, said, "Today's affiliation agreement underscores Geisinger Commonwealth School of Medicine's longstanding commitment to our community, especially to our local students. I am delighted that the smart and capable students who graduate from Marywood may now find the admissions path to our medical school a bit less onerous."
Marywood University prepares students to have a positive impact on society at regional and global levels while providing each student with the foundation for success in an interdependent world. Marywood University is co-educational, comprehensive, residential, and Catholic. Founded in 1915 by the Sisters, Servants of the Immaculate Heart of Mary, the University serves men and women from a variety of backgrounds and religions. The University enrolls more than 2,500 students in an array of undergraduate and graduate programs. Committed to enriching human lives through ethical and religious values and a tradition of service and motivated by a pioneering, progressive spirit, Marywood provides a framework for educational excellence that enables students to develop fully as persons and to master professional and leadership skills necessary for meeting human needs.
Geisinger Commonwealth School of Medicine (GCSOM) is a member of the Geisinger family. GCSOM offers a community-based model of medical education with campuses in Atlantic City, Danville, Doylestown, Sayre, Scranton and Wilkes-Barre. Geisinger Commonwealth offers Doctor of Medicine (MD) and Master of Biomedical Sciences (MBS) degrees. The college's innovative curriculum, focused on caring for people in the context of their lives and their community, attracts the next generation of physicians and scientists from within its region in northeastern and north central Pennsylvania, as well as from across the state and the nation. Geisinger Commonwealth is committed to non-discrimination in all employment and educational opportunities. Visit www.geisinger.edu/gcsom.