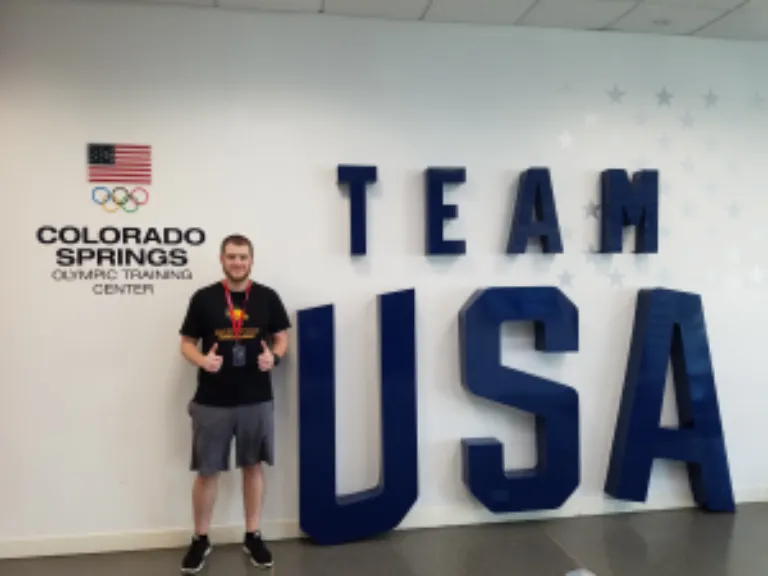 Exercise Science Student Attends Team USA Symposium
Nick Macano, Dunmore, Pa., junior exercise science major, recently attended the Team USA Symposium at the United States Olympic Training Center in Colorado Springs, March 8-March 11, during Marywood's spring break. While searching for internships, Mr. Macano came across the Team USA Symposium website and registered for the event.
Mr. Macano said, "I will absolutely attend this event again next year, as it was a great opportunity to network, to gain insights into how others in the exercise science field got their starts, and it gave a lot of valuable information about how Team USA professionals train top-level athletes."
The Team USA Symposium, which is held annually at the Colorado Springs Olympic and Paralympic Training Center, is a three-and-a-half-day event that offers attendees the opportunity to learn more about the "Team Behind the Team." Throughout the conference, participants hear from employees of the United States Olympic and Paralympic Committee (USOPC) and National Governing Bodies (NGBs), participate in various sport experiences, and network with staff at the career and internship fair. This annual event is the only conference of its kind that provides an in-depth look at the functions and operations of the U.S. Olympic and Paralympic movements.
Prior to attending Marywood University, Mr. Macano attended Palmyra-Macedon High School, Palmyra, N.Y., and attended Finger Lakes Community College, where he began his studies in athletic training. Taking some time off between community college and entering into Marywood University, Mr. Macano said, "I found the transfer process to be an easy one. I researched colleges, visited Marywood University, met with faculty members and counselors, and as soon as I returned home, I filled out an application for admittance."
In addition to majoring in Exercise Science at Marywood University, Mr. Macano also serves as an officer for the Exercise Science Club and works for Athletic Republic, Moosic, Pa., where he is a sports performance coach and aids high school and college athletes. He is looking forward to pursuing a career in the strength and conditioning field post-graduation.