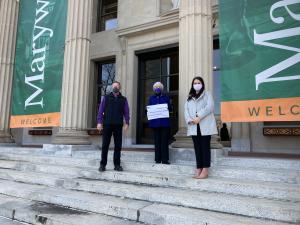 Marywood University Receives EITC Donation from Waste Management
Marywood University recently received a Pennsylvania Education Improvement Tax Credit (EITC) in the amount of $6,000 from Waste Management. The EITC donations benefit the University's Momentum Program, which enables high school students to earn college credits at a significantly reduced cost while still enrolled in high school.
Tax credits may be applied against the tax liability of a business for the tax year in which the contribution was made. These are available on a first-come, first-served basis for contributions to EITC-approved organizations like Marywood University. Businesses range from small neighborhood pharmacies to mid-sized and large corporations, and all are eligible. Participating businesses can receive a tax credit equal to 75 percent of a contribution, up to $750,000 per year. The credit increases to 90 percent if the business agrees to provide the same amount for two consecutive years.
Photo ID:
Pictured from left to right are: Rich Grant, route manager for Waste Management; Patricia Rosetti, leadership annual giving officer at Marywood University; and Jessica Persing, senior account executive for Waste Management.