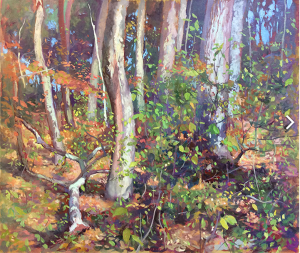 Collier Parker, MFA, exhibits works in Venice Italy
Collier Parker, professor of art at Marywood University, is exhibiting five paintings in the Borders Festival Future Landscapes, ITSLIQUID International Art and Architecture Festival, in Venice Italy. The exhibition opened on October 16, and runs through November 29, 2020.
ITSLIQUID Group announced the opening of FUTURE LANDSCAPES exhibition, the third appointment of BORDERS Art Fair 2020, an international exposure of photography, architecture, paining, video art, installation, sculpture and performance art. The exhibition is being held at Palazzo Albrizzi-Capello, a historical venetian building in Cannaregio, dated back in the XVI century.
The event, organized by ITSLIQUID Group, in collaboration with Venice Events and ACIT Venice Italian-German Cultural Association, presents a selection of more than 100 artists from nearly 20 different countries. After the success of the first and second appointments—BODIES+CITIES SKIN and FRAGMENTED IDENTITIES—ITSLIQUID Group opens FUTURE LANDSCAPES, the last step of the fair which analyzes the concept of 'borders' as physical, urban, social, and mental boundaries.
Mr. Parker earned his bachelor of fine arts degree from Delta State University, Cleveland, MS., and earned his master of fine arts from the Rosary Graduate School of 'Fine Arts, Villa Schifanoia, Florence Italy. His works have been selected for numerous local, national, and international exhibitions. Additionally, Mr. Parker has received various awards and honors including the Visual Artists Award; Humanities Teacher of the Year; first and second prizes for painting at the Crosstie Arts Festival, Cleveland, MS.; the Florence Scholarship from the Rosary Graduate School of Fine Art, Florence, Italy; and was Honorable Mention in the National Landscape Show, Tolley Galleries, Washington, D.C.
Visit Marywood University's Art Department for additional information.