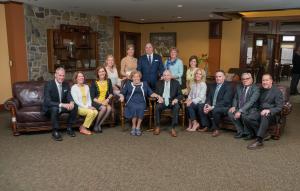 Virtual Community Leadership Celebration Honors Conaboy Family, Salutes Frontline Workers
Marywood University's first ever Virtual Community Leadership Celebration took place on Thursday, September 17, 2020, honoring The Judge Richard P. and Marion Conaboy Family. Marywood joined the honorees in saluting Marywood students, alumni, and community members working on the front lines. Funds raised through this year's Community Leadership Celebration (CLC) totaled $280,000. Beginning in 2014, to date, the CLC, held annually, has raised $2.5 million dollars for the University.
The evening was emceed by Msgr. Joseph G. Quinn, J.D., J.C.L. and featured powerful performances by student vocalists Mason Marie Clark and Leanne Onofrio, and Michele Conaboy McGrath and Stephen Murphy, as well as testimonials from Sen. Robert P. Casey, Jr., Judge Terrence R. Nealon, and longtime family friend, Rev. Bernard R. McIlhenny, S.J. Also featured was a video montage saluting frontline healthcare workers, educators, social workers, and counselors.
Sr. Mary Persico, IHM, Marywood University President, proudly bestowed The Judge Richard P. and Marion Conaboy Family with the Lead On Award, to recognize their exemplary lifetime community leadership endeavors and the meaningful difference they have made through decades of public service, abiding faith, and dedication to the greater good of all.
"On behalf of my entire extended family, so many of whom are Marywood graduates, we are so honored by this award," said Atty. Mary Ann Conaboy Abrahamsen '73. "My parents would have been thrilled to have this."
"We started in our own family, the 14 of us; that was our own community, and that is where my parents taught us the value of community service," said Atty. William P. Conaboy, President and CEO of Allied Services. "There is a drastic shortage of trained nurses. We work very closely with Marywood's PA and Nursing programs, integrating the students needing to be trained to be the future caregivers. The University has done an outstanding job as a neighbor, as a collaborator, as an educator with our system."
"We were very honored and humbled to act as co-chairs for this event," said Ann Henry '73 and Mary Ellen Coleman H('68). "We came together in an unusual way to support Marywood, its students, and the Conaboy Family. While COVID-19 may be keeping us physically distant, our support, love, and friendships continue to bind us together, and, in some ways, may have made us even stronger."
Marywood University's CLC event is the University's largest fundraising event that provides special support to Marywood students. Proceeds from this year's event will benefit the President's Innovation Fund, which supports Marywood students through initiatives that enhance the academic experience in the IHM tradition.
Learn more about Marywood University's Community Leadership Celebration.
Phone (570) 348-6238