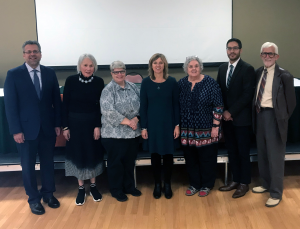 School of Social Work Celebrates 50th Anniversary
In 2019, Marywood University's School of Social Work celebrated its 50th anniversary with daylong presentations, workshops, and a reception. With nearly 5,000 master of social work graduates, alumni of the program can be found in 37 states and 8 foreign countries, making a difference and changing the face of social work practice.
The School of Social Work at Marywood University is the leading provider of social work education in Northeast Pennsylvania. Marywood's social work programs, including bachelor's and master's degree programs, are fully accredited by the Council on Social Work Education. The baccalaureate and master's programs have been accredited since 1974 and 1969 respectively. The master of social work program is offered at four different locations on a full- or part-time basis. The University's bachelor of social work program combines a liberal arts curriculum with courses in social behavioral science and professional social work.
**Presenters at the 50th Anniversary celebration included: Ron Simon, LCSW, chief operation officer at Children's Service Center; Phyllis Black, Ph.D., keynote speaker at the celebration, professor emerita, and retired director of the Lehigh Valley Program of Marywood's School of Social Work; Lea Dougherty, LSW, moderator at the celebration, MSW program director and Scranton program coordinator at Marywood University; Christina Car Gigler, MSW, LCSW, ACSW, assistant professor of practice and interim coordinator at Marywood University's Lehigh Valley Program; Deirdre Spelman, director of field education for Scranton and Central Pennsylvania programs at Marywood University; Ricardo Horn, LSW, executive director at Pyramid Healthcare; and Lloyd Lyter, Ph.D., MSW, LSW, professor in the School of Social Work and director of the Pocono Program at Marywood University's satellite program at East Stroudsburg University.