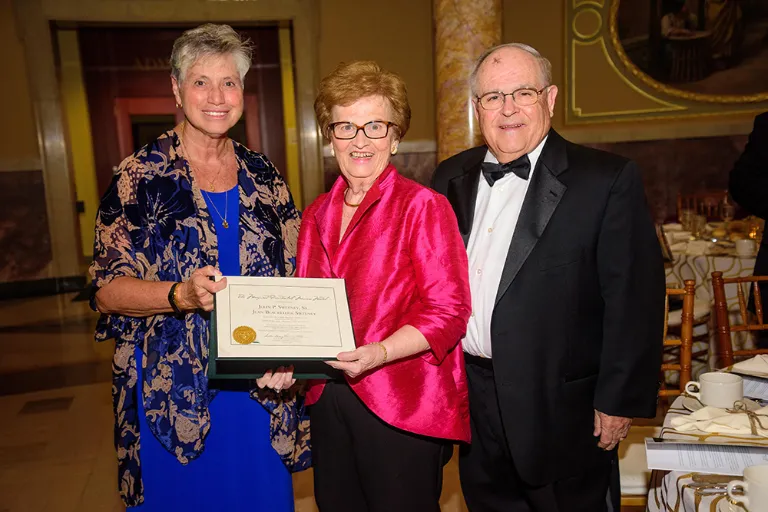 Multimillion Dollar Endowed Scholarship Gift Sets a Record at Marywood
At its recent Presidential Society Dinner, the late Regina P. Tirpak '59 was inducted into the Saint Alphonsus Society, which honors benefactors whose lifetime commitments to Marywood have reached or exceeded $500,000. Her generous estate gift, exceeding $3 million, is one of the largest gifts to Marywood University to date. Regina Tirpak was a graduate of Marywood College, where she earned her bachelor's and master's degrees in home economics, a discipline that she taught at Wyoming Valley West for 30 years.
Sister Mary Persico, IHM, Ed.D., president of Marywood University, said, "We are truly grateful to Regina for her generosity and vision, which made possible the establishment of the Tirpak Family Memorial Scholarship, benefitting female students studying Nutrition and Dietetics at Marywood."
Additionally, John P., Sr. and Jean Blackledge Sweeney were honored at the Presidential Society Dinner with the Presidential Mission Medal, for their service and commitment to Marywood's core values of Catholic identity, respect, empowerment, and excellence.
The Sweeneys exemplify philanthropy in action, and the cause of education is at the top of their agenda. They are faithful benefactors of several regional educational institutions, including Marywood University. Together, they established several scholarships to provide educational access and a world of opportunities to generations of grateful students.
Mr. Sweeney served as the President of Specialty Defense Systems in Dunmore prior to his retirement. A graduate of the University of Scranton, Mr. Sweeney was president at the company's inception and served in this capacity until 2000. He was a Marywood University Trustee from 2009-2018. Mrs. Sweeney graduated from the Scranton State Hospital School of Nursing and attended Marywood. She had her own successful career as an occupational health nurse at the former Haddon Craftsman in Scranton.
Presidential Mission Medal recipients inspire others to serve and advance the University's commitment to excellence and empowerment through education. Sister Mary Persico said, "Mr. and Mrs. Sweeney's enduring commitment to the mission of Marywood University, through the generous gifts of their time, energy, talents, and personal resources, will continue to benefit and transform the lives of our students, now and for future generations."