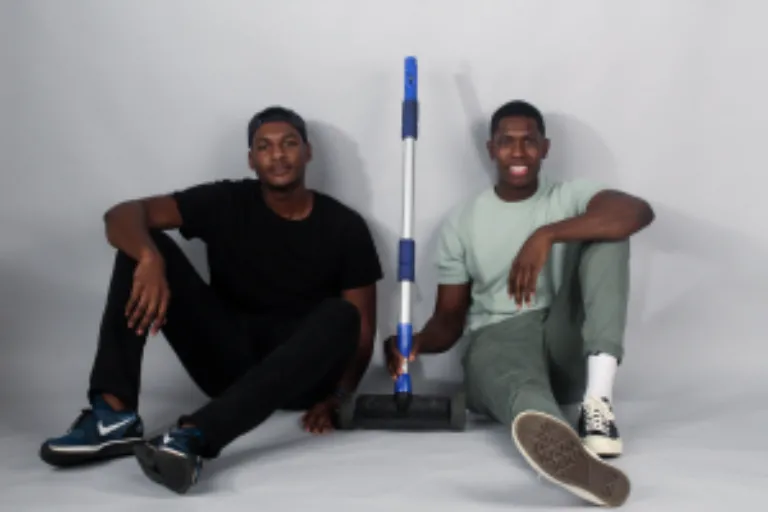 Entrepreneurs Gear Up for Kickstarter Campaign
Senior business students at Marywood University, Dimitri Thompson and Kendall Farrell, are gearing up for their Kickstarter Campaign, which is set to launch on April 1, 2019. The entrepreneurs are two-time top 5 finalists in the techBridge competition (also known as The Business Plan Competition), a regional contest designed to stimulate innovative thinking to leverage a technology-driven economy while retaining our regions' talent.
Mr. Thompson and Mr. Farrell invented a device that cleans the undercarriage of a car. The name of their product is called, "The Uni-Glider." Through the techBridge competition and with the assistance of Christopher Speicher, Ph.D., associate professor of marketing and entrepreneurship at Marywood University, the duo of entrepreneurs was able to fine tune their prototype and move closer to being able to offer the product on the market.
Residing in the Scranton area, and remembering their hometown of New York City, Mr. Thompson and Mr. Farrell said, "Being from New York City, we deal with a lot of road salt. Everyone who drives in any city has had a moment where they're stuck behind a truck leaving salt on the road, and we often forget the damage that can be done to the underside of our vehicles as a result."
According to the website, Kickstarter helps artists, musicians, filmmakers, designers, and other creators find the resources and support they need to make their ideas a reality. To date, tens of thousands of creative projects—big and small—have come to life with the support of the Kickstarter community.
Excited for the launch of their Kickstarter Campaign, the business partners are anxiously awaiting graduation in the spring of 2019 so they can devote all of their time to growing their business, T&F Products. In addition to offering the "The Uni-Glider system," T&F Products, a marketing firm for small businesses, aims to assist clients with the expertise needed to give them an edge over competitor start-up businesses.
For additional information about Mr. Thompson and Mr. Farrell's product, "The Uni-Glider," please visit www.youtube.com/watch?v=v-pxAMkTWk4, or visit the Kickstarter website on April 1, 2019, when the launch of product is unveiled on www.kickstarter.com