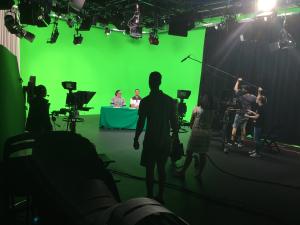 Communication Arts Faculty and Students Excel
The Society for Collegiate Journalists (SCJ) has recognized the excellence and leadership of communication arts faculty and students from Marywood University.
Lindsay Wotanis, associate professor of communication arts, was elected to serve as President on the Society for Collegiate Journalists' National Council at the Society's biennium conference in Louisville, Ky. Dr. Wotanis will serve a two-year term (2018-2020), with possibility of re-election for a second term. She has served on the National Council since 2012, holding positions including Chapter Representative and, most recently, Vice President for Communication.
In the annual Society for Collegiate Journalists' National Contest, Marywood's SCJ Chapter took home 13 awards for students' work at The Wood Word, Marywood University's online news source, and TV-Marywood, the campus television station—including three first place awards, six second place awards, and four third place awards—and also merited three honorable mentions.
First place awards include: Online News Website Overall Excellence—The Wood Word; Beat Reporting—Brooke Williams, Jessup, Pa.; Rachel Looker, Blandon, Pa.; and Briana Ryan, Shenandoah, Pa. Continuing Coverage—Brooke Williams, Rachel Looker, and John Ferraro, Dickson City, Pa.
Second place awards include: Online Broadcast Website Overall Excellence—TV Marywood; Television News Package—Brooke Williams; Editorial Cartoon—Autumn Bohner, Dornsife, Pa.; Multimedia Series—Manfid Duran, Doylestown, Pa.; John Ferraro; Rachel Looker and Brooke Williams; Beat Reporting—Briana Ryan, Brooke Williams, and Tatiana Tell, Scranton, Pa.; and Column of Commentary—Vanessa Rodriguez, East Stroudsburg, Pa.
Third place awards include: Multimedia Series—Briana Ryan and Manfid Duran; Breaking News—John Ferraro; Editorial—The Wood Word Editorial Board, and Podcast—Nicolo Manzo, Olyphant, Pa.
Honorable mentions include: Social Media Presence Overall Excellence—The Wood Word; Multimedia Series—Justin Kucharski, Olyphant, Pa., and Manfid Duran; and Sports News—Nicolo Manzo.
The Society for Collegiate Journalists is a national society of collegiate mass communications. It is the nation's oldest organization, designed solely to serve college media leaders. Today, SCJ has approximately 100 active chapters nationwide and more than 1,200 members.