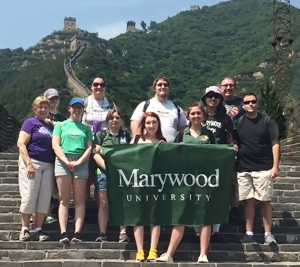 Wind Ensemble Climbs to New Heights
Following the end of the spring semester, Marywood University Wind Ensemble students embarked on a ten-day tour to Beijing, China. Students performed in iconic theatre and concert halls such as the Shaoxin Grand Arts Theatre, the Xuzhu Concert Hall, and the Chinese National Library Music Hall.
The tour was the result of a collaborative effort by F. David Romines, D.M.A., associate professor of music education, director of bands, co-chairperson of the music, theatre, and dance department at Marywood University, and United States-China Board of Directors member Dr. Andrew Yozviak, director of bands and professor of music at West Chester University, and Dr. Song Yang, D.M.A., vice chairman of the United States Cultural and Educational Foundation.
Marywood and West Chester University students performed as part of the Beijing International Arts Festival, where they also had the opportunity to work with talented Chinese musicians including Hesheng Wang, the People's Liberation Army Composer who wrote "Road to Success" for the 2008 Beijing Olympic Games, and high school student, Wei-Xian Zhong, who accompanied the band as a guest soloist.
Dr. David Romines said, "It is difficult to express my pride and admiration for my students and our West Chester partners. China can present unique challenges for travelers who are new to the country. I am pleased to say our students all reacted to China with respect and always made their mark." Writing from the lobby of the Langham Hotel in Shanghai and reflecting on the amazing musical and cultural journey that he and his students experienced, Dr. Romines said, "I am exceedingly proud of the Marywood Wind Ensemble members who performed so well at the Beijing International Arts Festival. We were told, through positive reviews, that our performance was one of the highlights of the festival."
Pictured at the Great Wall of China: Marywood University Wind Ensemble students and faculty who recently traveled to Beijing China to perform in the Beijing International Arts Festival.
(left to right): Joanne Stiff; Taylor Morgan, Jermyn, Pa.; Courtney McComb, New Albany, Pa.; Shannon Would, Bangor, Pa.; Harlow Alexander, Dupont, Pa.; Trevor Sablan, South Abington Township, Pa.; and Corey Bartell, Scranton, Pa. Back row (left to right): Katherine Moore, East Stroudsburg, Pa.; Theresa Staerker, Glenmont, N.Y.; Drake Dewald, Mountain Top, Pa.; and Dr. David Romines, director of bands at Marywood University.