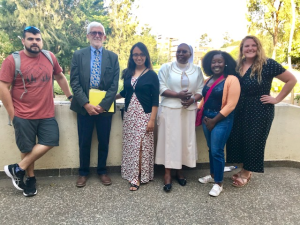 School of Social Work Students Travel to Kenya for Field Education Experience
In 2018, four Marywood University School of Social Work, master of social work (MSW) students, Jenny Gonzalez Monge, Scranton, Pa.; Shanna Holmes, Wilkes-Barre, Pa; Cory Strubert, Bartonsville, Pa.; Kate Zelazny, Milton, Pa.; along with a Marywood School of Social Work MSW graduate and Ph.D. student, Sister Kevin Karimi, LSOSP, Scranton, Pa., and Dr. Lloyd L. Lyter, professor in the MSW program in Marywood's School of Social Work, returned from four weeks of international field education and scholarly experience in Kenya. This Global Social Work Education and International Field Education Experience was funded by a generous grant from Antonia and Hans Schierling.
Dr. Lyter provided a series of lectures to bachelor's, master's, and doctoral social work students at the Catholic University of Eastern Africa in Nairobi. The students, Ms. Gonzalez Monge, Ms. Holmes, Mr. Strubert, and Ms. Zelazny, engaged in diverse field activities facilitated by Sister Kevin in Embu, Kenya. They studied the differences in ideology and culture between East African and Western cultures, as well as the meaning and value of international social work. Marywood students engaged with community groups, talked to professionals, and collaborated and presented to local community leaders, schools, and government officials. Students developed a clear understanding of the global context of social work practice, the evolution of social work in Eastern Africa, an understanding of historical influences, and the importance of integrating the culture, values, and belief system of East African cultures into service provision and community development.