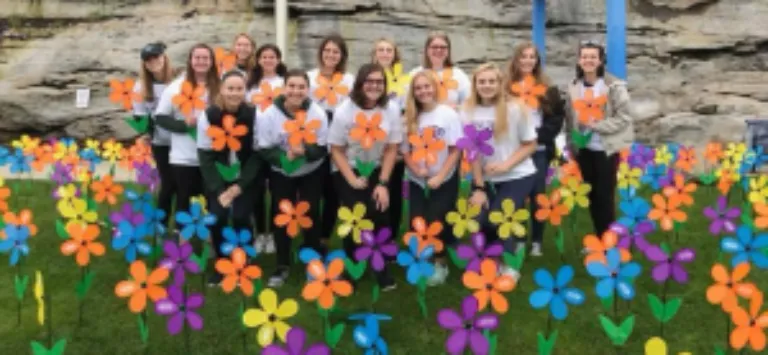 Raising Money to End Alzheimer's
The University's Chapter of the National Student Speech-Language-Hearing Association (NSSLHA) recently volunteered at the two-mile Walk to End Alzheimer's that was held at PNC Field. Through the efforts of more than 850 participants, over $100,000 was raised. Money raised will provide funds for Alzheimer's care, support, and research.
First row (left to right): Katie Dearborn, Bedminster, Pa.; Maggie Carter, Archbald, Pa.; Nicole Coombs, Highland Mills, N.Y.; Emily Zarrilli, Staten Island, N.Y.; and Lauren Besecker, Flemington, N.J.
Second row (left to right): Kelsey Killeen, Scranton, Pa.; Nicole Koestler, Hazlet, N.J.; Danielle Schearer, Mertztown, Pa.; Katelyn Gjini, Ramsey, N.J.; Brianna Mallia, Staten Island, N.Y.; Ashley Faus, Muncy Valley, Pa.; Kristen Meyer, Skillman, N.J.; Mary Wisnesky, Coraopolis, Pa.; Megan Monack, Latrobe, Pa.