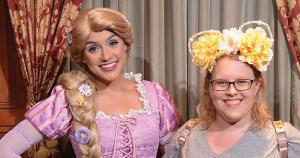 A Magical Career
Lauren Kishel '18 graduated in May with a Bachelor of Business Administration degree in Hospitality Management. She works full-time at Walt Disney World after finishing three internships there.
Lauren did her first internship with Disney in 2016. She went back for more magic every year since then with subsequent internships, doing everything from working behind reception desks at Disney resorts to delivering packages. Hospitality management is a "jack-of-all-trades" degree, she noted.
While Lauren felt that her classes gave her "an idea of what to expect," she didn't realize the high level of demands placed on Disney's hospitality staff until she experienced it herself. "We're the backbone of Disney," Lauren said. Without the hospitality cast members, the magic simply doesn't happen.
She recalled an interaction with a little girl who was exhausted after what had clearly been a long drive. As the child's parents checked into the hotel, Lauren learned that it was the girl's birthday, and gave her a souvenir button with her name on it—much to the little one's delight. Lauren concluded, "Little things like that can make someone's day."
Marywood students are welcome to visit the Career Development Center, Learning Commons Room 342, for information about internships at Disney and other businesses. Go to www.marywood.edu/career, email career@marywood.edu, or call 570-348-6247.