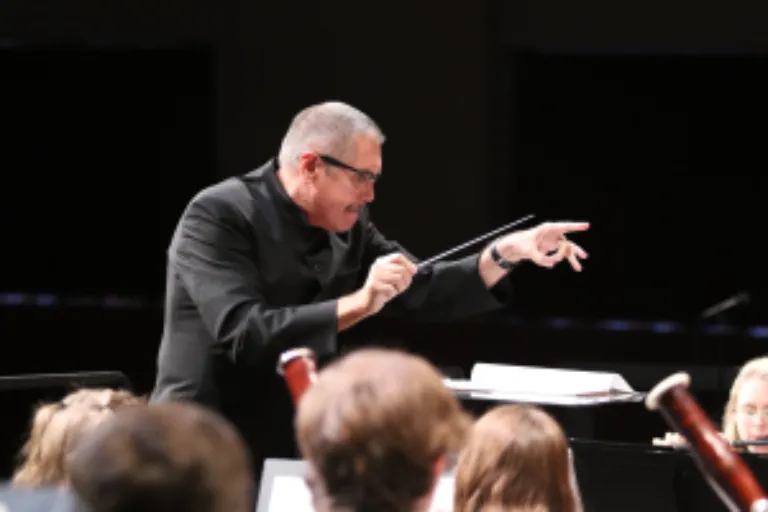 F. David Romines, D.M.A. to Present at National Convention
F. David Romines, D.M.A., associate professor of music education and co-chairperson of the music, theatre, and dance department at the University, has been invited to be a presenter at the upcoming 2018 Collegiate Band Directors National Association Eastern Division Convention, which will take place at Yale University, New Haven, Conn. A blind panel committee reviewed recordings of the Marywood Wind Symphony along with a redacted description of how Marywood University's band program(s) are organized. Dr. Romines has been asked to speak on how the Marywood program has developed over the past eight years and make repertoire suggestions for collegiate band programs at smaller schools. Recordings of Marywood's band will be played for those in attendance.
Dr. Romines earned his bachelor and master of music degrees in music education from the University of Tennessee and his doctor of musical arts degree from the University of Southern Mississippi.
Joining Marywood University in 2009, Dr. Romines directs the wind ensemble. He oversees the departmental operations and serves as artistic director for Marywood University's Wind Ensemble. His academic responsibilities include: teaching courses in instrumental conducting, instrumental methods, and he supervises student teachers. He has served as a guest conductor/clinician in five countries as well as the United States. He also serves as the educational advisor for the United States-China Cultural and Educational Foundation and is a former member of the Music Educators Journal Advisory Board.
Dr. Romines is frequently invited to be a guest clinician for high school bands and band camps all over the country. He has adjudicated many band competitions; presented lectures at universities, conferences, and conventions; and has written a number of journal articles.
Dr. Romines currently serves as Educational Advisor and Board Member for the U.S.-China Cultural and Educational Foundation. In this position, he works with cultural entities in China to bring outstanding musical and dance ensembles from the United States to China for the benefit of the Chinese people. He is also a member of the editorial board of the Music Educators Journal and serves the John Philip Sousa Foundation as a member of the Sudler Committee.
Dr. Romines recently assisted with the establishment of the Northeastern Youth Wind Ensemble at Marywood University, which attracts students from throughout the Northeastern United States. Marywood's ensemble is one of only five such youth wind ensembles in the country.