A Secondary Math Education Degree Is In Demand!
In schools across the nation, there is a growing demand for math teachers. A Secondary Education degree in Mathematics from Marywood University will open doors of opportunity for you, so you can open doors of understanding for your future students.
Graduates of our secondary math education program:
Know and understand mathematics substantially beyond what they may be expected to teach;
Relate mathematics to the world of the student;
Make students aware of the role of mathematics in our culture and of the relationship between mathematics and the natural and social sciences;
Plan and implement a program of learning in mathematics for students of varying backgrounds and abilities;
Evaluate the learning process through a variety of methods and set up an environment conducive to learning;
Recognize learning disabilities and know the appropriate measures to take in such cases.
For the Math/Secondary Education major, 66 credits are required in the core curriculum. Students interested in earning a Math/Secondary Education degree should consult the Education Department for a description of admission and retention criteria. The curriculum is subject to change, based on guidelines established by the Pennsylvania Department of Education.
Foundation in mathematical skills and logical reasoning
Ability to relate mathematics to the world of the student.
Fully accredited program (MSCHE & PDE)
Top Employers
School Districts
Universities
Curriculum Development Institutions
Private Tutoring
Top Career Paths
Mathematician
Computer Scientist
Statistician
Electrical/ Mechanical Engineer
Dig Deeper Into the Program Details
Undergraduate Admissions Requirements
Completed application
Official transcripts
Letter of recommendation
Official SAT and/or ACT test scores (Marywood is test optional)
Essay (optional)
The School of Education is located in the The McGowan Center for Graduate and Professional Studies located on the corner of University and North Washington Avenues. This facility contains classrooms and related clinical/professional space.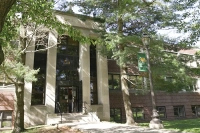 206 Morgan Road
Map & Directions
The Center for Natural and Health Sciences contains various science laboratories, computer labs, the 100-seat Comerford Theatre, and various classrooms. Classrooms for our Math and Computer Science, Science, Nursing, and Public Administration programs are in this building.
Learn More
|
Take a Virtual Tour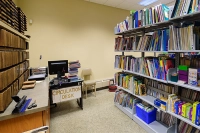 Map & Directions
The Curriculum Lab and Library, located in the McGowan Center for Graduate and Professional Studies, is a curriculum materials resource area, designed to support the specialized needs of teacher education students.
Learn More
Barry M. Goldwater Scholarship
The purpose of the Barry M. Goldwater Scholarship and Excellence in Education Foundation, as stated in the enabling legislation, is to alleviate a critical current and future shortage of highly qualified scientists, mathematicians, and engineers. A more realistic statement of the purpose, in today's terms, is to provide a continuing source of highly qualified individuals to those fields of academic study and research.
View Tuition Rates
80+ opportunities for you to find the right fit with 50+ undergraduate degrees and 30+ graduate and certificate courses.
From #DayOne, Marywood is here for you each step of the way.
Request Information
Loading...
Latest Program News & Events