Expand Your Career Options with a Bachelor's Degree in Health Services Administration
The Health Services Administration track is a distinctive interdisciplinary program that develops in students the values, knowledge, and skills necessary to enter the expanding field of Health Services Administration. Coursework for this Bachelor of Arts degree program emphasizes the new directions in which the health care system is expanding:
Private and community oriented wellness programs
Rehabilitative medical services/health care facilities for the elderly
Health care facilities for addictive diseases
Hospices
Managed Care
The curriculum integrates courses from business administration and the social sciences. Together with Marywood's liberal arts curriculum, this major prepares graduates to enter the job market in entry-level health services administrative positions. Marywood Heights, a university-based retirement community, provides a convenient, on-site opportunity for service learning.
Five-year Master's Degree Option
A special Marywood feature is the optional five-year Master's Degree offered to qualified Marywood undergraduates. This permits students to complete their Master of Health Services Administration (MHSA) degree in only one year following completion of Marywood's four-year B.A. degree program in Health Services Administration. The curriculum draws on a faculty with strong academic credentials and substantial experience working in public administration.
Top Employers
Hospitals
Doctor's Offices
Nursing Homes
Urgent Cares
Top Career Paths
Care Manager
Health Information Manager
Healthcare Consultant
Healthcare Human Resource Manager
Dig Deeper Into the Program Details
Undergraduate Admissions Requirements
Completed application
Official transcripts
Letter of recommendation
Official SAT and/or ACT test scores (Marywood is test optional)
Essay (optional)
In the McGowan Center for Professional Studies, you'll find specialized computerized programs, including CAI (computer-assisted instruction) and interactive video capability. General word processing and statistical software is available in the lab as well.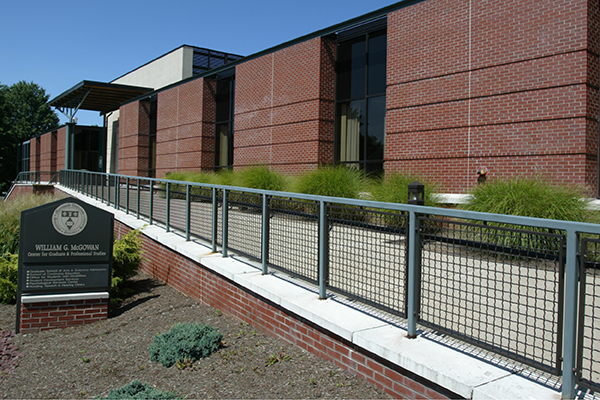 1201 University Avenue
Map & Directions
The McGowan Center for Graduate and Professional Studies, located on the corner of University and North Washington Avenues, contains classrooms and related clinical/professional space for Communication Sciences and Disorders, Psychology and Counseling, Education, and Business students. Market Marywood is also located here.
Learn More
|
Take a Virtual Tour
80+ opportunities for you to find the right fit with 50+ undergraduate degrees and 30+ graduate and certificate courses.
From #DayOne, Marywood is here for you each step of the way.
Request Information
Loading...
Latest Program News & Events