Explore One of the Best MBA Programs in the United States
Marywood University's graduate program provides general business administration knowledge and focused training in one of three areas of concentration. We will teach you not only how to become a successful business leader, but how to do so in a way that is ethically, socially, and environmentally responsible.
General Management Concentration
The concentration in General Management is designed to provide professional preparation for careers in middle- and upper-level management. In addition, it further develops the abilities of those currently employed in these positions by providing them with current trends in the field of management. Case studies are used to develop analytical and problem solving competencies in the various functional areas of business and in their interdependencies. Courses in this area cover Human Resources Management, Production Management: Quality Approaches, Labor Relations and Collective Bargaining, Management of International Business Organizations, etc.
Convenient, Online Graduate Courses for Busy Professionals
You can earn your Master of Business Administration degree at Marywood in as little as two years, either on-campus or online. Our online courses are delivered in real-time and recorded for future reference. Students are encouraged to participate in live discussions with professors and other students through a virtual classroom experience that offers maximum flexibility for busy professionals.
Personal Attention from Experienced Faculty in the General Management track
Courses for the General Management track are taught by industry veterans with extensive management experience. Prior to joining the faculty at Marywood, our professors have held senior positions at General Motors, US Airways, Harper Collins, Exxon, and the Internal Revenue Service (IRS), to name a few. Our classes are small, which affords professors ample time to mentor students.
Pursue a Master's in Business Administration at Marywood
Concentrations in finance, management, and MIS
On-campus and online programs
Personal attention from experienced faculty
Top Employers
Technology Companies
Consulting Firms
Automotive Manufacturers
Food/Beverage Manufacturers
Top Career Paths
Marketing Manager
Financial Manager
Systems Administrator
School Principal
Dig Deeper Into the Program Details
Graduate Admissions Requirements
Bachelor's degree from a regionally accredited college or university
Bachelor's degree from a regionally accredited college or university
"B" average during undergraduate study or demonstrated potential for graduate work
Completed application

Submit an essay discussing your career objectives and why you want to pursue a career in business (350-word minimum).

Official, sealed transcripts
Two or three letters of recommendation
McGowan Center for Graduate and Professional Studies
In the McGowan Center for Professional Studies, you'll find specialized computerized programs, including CAI (computer-assisted instruction) and interactive video capability. General word processing and statistical software is available in the lab as well.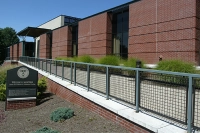 1201 University Avenue
Map & Directions
The McGowan Center for Graduate and Professional Studies, located on the corner of University and North Washington Avenues, contains classrooms and related clinical/professional space for Communication Sciences and Disorders, Psychology and Counseling, Education, and Business students. Market Marywood is also located here.
Learn More
|
Take a Virtual Tour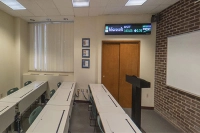 Map & Directions
The Wall Street West Financial Lab, created in 2008, is a real-time business lab in the McGowan Center. Complete with a constant stock ticker, the high-tech lab works hand-in-hand with the student-run stock portfolio, the Pacer Investment Fund.
Learn More
80+ opportunities for you to find the right fit with 50+ undergraduate degrees and 30+ graduate and certificate courses.
From #DayOne, Marywood is here for you each step of the way.
Request Information
Loading...
Latest Program News & Events