Strengthen Your Future with a Degree in Exercise Science
Marywood University is one of the best places to prepare for a career in the health professions. The programs are rigorous, providing students with the academic expertise and practical skills necessary to address our world's most pressing healthcare challenges. As a student in the Exercise Science Program, you will prepare to become a leader in the industry. At Marywood, you'll use technology and enjoy hands-on learning experiences under the guidance of dedicated faculty. A degree in Exercise Science provides you with a strong science base - including learning in anatomy, exercise physiology, movement assessment and nutrition- and then provides you with the opportunity to apply this knowledge in practical experiences working with real people.
Top Employers
Hospitals
Clinical Offices
Fitness Center
Community Center
Top Career Paths
Personal Trainers
Strength and Conditioning Coach
Exercise Physiologist
Health Fitness Instructors
Dig Deeper Into the Program Details
Undergraduate Admissions Requirements
Completed application
Official transcripts
Letter of recommendation
Official SAT and/or ACT test scores (Marywood is test optional)
Essay (optional)
Exercise Science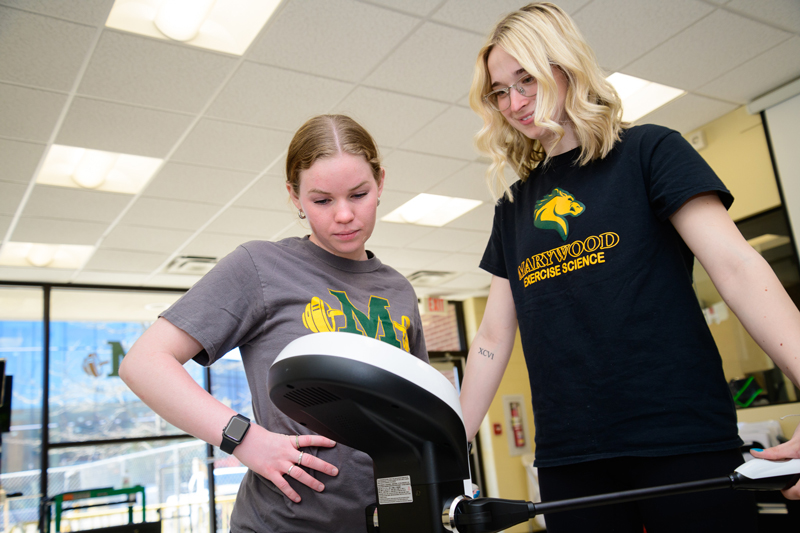 Map & Directions
Marywood's 2,040-square foot Human Physiology Lab is one of the area's leading sites for student and faculty research. Located in the Center for Athletics and Wellness, the HPL is fully equipped to conduct a wide array of physiological measurements to assess health, fitness, and athletic performance, and to complete various physiological and biological research.
Learn More
80+ opportunities for you to find the right fit with 50+ undergraduate degrees and 30+ graduate and certificate courses.
From #DayOne, Marywood is here for you each step of the way.
Request Information
Loading...
Latest Program News & Events