Bookmark Exciting Career Possibilities with an English Literature Degree
At Marywood, you'll find a comprehensive curriculum in English and World Literature, a dedicated and engaging faculty – and a background in critical thinking and writing that will serve you well whatever your goals. You'll develop your abilities to think, to write, to communicate: skills that you can use everywhere from the classroom to the office to the web. You'll be required to think critically and analyze what you read for quality, merit, and reason. The background you'll gain in English and other world literatures—and the histories and cultures behind them—will help prepare you to realize the goal of every Marywood student's education: you'll be learning to live responsibly in a world where persons are increasingly interdependent.
Course requirements allow room for students to make choices, enabling you to shape the dimensions of your degree. We offer small seminars, a gateway course, and a research-based capstone course. All English majors are encouraged to pursue a minor to broaden their learning and enhance their marketability. Literature majors graduate with strong reading, writing, critical thinking, and communication skills, all of which serve them well in a variety of professions, such as: Law / Journalism / Editing / Library / Science / Business / Teaching / News Broadcasting Technical Writing / Marketing / and more.
Broad overview of world literature, with emphasis on British and American works
Focus on written and oral communication skills
Wide variety of career opportunities
Top Employers
Publishing Companies
Media/News Companies
Law Firms and Political Campaigns
Marketing/Public Relations
Top Career Paths
Professional Writer, especially Social Media for Businesses & Non-Profit Agencies
Freelance Writer (fiction/non-fiction, journalism, gaming)
Editor/Publisher
Law/Advocacy/Speech-Writing
Dig Deeper Into the Program Details
Undergraduate Admissions Requirements
Completed application
Official transcripts
Letter of recommendation
Official SAT and/or ACT test scores (Marywood is test optional)
Essay (optional)
English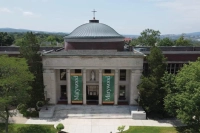 102 Morgan Road
Map & Directions
The Liberal Arts Center contains classrooms utilized by several programs, as well as the Office of Admissions and a variety of other administrative offices. It is also home to the iconic Rotunda and the NativityMiguel School of Scranton.
Learn More
|
Take a Virtual Tour
80+ opportunities for you to find the right fit with 50+ undergraduate degrees and 30+ graduate and certificate courses.
From #DayOne, Marywood is here for you each step of the way.
Here you will find your curriculum guide as well as links to practicum worksheets, and other useful department information.
Request Information
Loading...
Latest Program News & Events