Earn Your Criminal Justice Degree Online
The online Criminal Justice degree combines criminal justice and management course work to prepare law enforcement professionals for administrative positions. Our program, the first graduate criminal justice program in Northeastern Pennsylvania, is designed for those with a strong interest in criminal justice and the ambition to enhance their management skills. Work with a variety of federal, state, and local law enforcement agencies. Learn about the history of the American criminal justice system, explore the causes of crime and delinquency and the effectiveness of rehabilitation efforts, examine contemporary criminal justice policies, create financial statements, utilize management information systems, manage personnel, and interpret administrative law.
Affordable Transition Options
Earn Portfolio Credits (up to 6 graduate credits given for valid professional experience)
Transfer Credits Welcome (up to 6 graduate credits transferable from other accredited institutions)
Tuition-Reduction (to graduate students employed in Criminal Justice or related field)
Convenient and fully online, offering face-to-face remote instruction.
Top Employers
Federal Government
Law Firms
Police Departments
Local Government
Top Career Paths
Attorney
Judge
Police Officer
Criminal Investigator
Dig Deeper Into the Program Details
Graduate Admissions Requirements
Bachelor's degree from a regionally accredited college or university
"B" average during undergraduate study or demonstrated potential for graduate work
Completed application
Official, sealed transcripts
M.S. in Criminal Justice program must include:
Two letters of recommendation from college/university faculty members (You may also include recommendations from supervisors in a criminal justice agency.)
2-4 page expository essay discussing your career objectives and how a Master's degree in Criminal Justice from Marywood will contribute to these objectives
Criminal Justice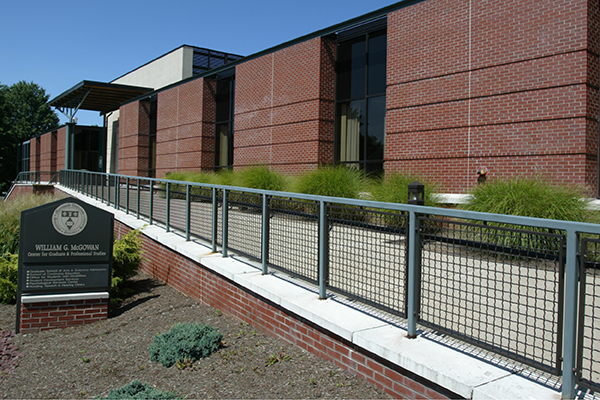 1201 University Avenue
Map & Directions
The McGowan Center for Graduate and Professional Studies, located on the corner of University and North Washington Avenues, contains classrooms and related clinical/professional space for Communication Sciences and Disorders, Psychology and Counseling, Education, and Business students. Market Marywood is also located here.
Learn More
|
Take a Virtual Tour
80+ opportunities for you to find the right fit with 50+ undergraduate degrees and 30+ graduate and certificate courses.
Request Information
Loading...
Latest Program News & Events