Aviation Management Student Follows Flightpath of His Father
Aug 17, 2018
Yousf Almoumin '20, a junior aviation management student, planned on following in his father's footsteps from an early age. His father, AbdulBasit, oversees aircraft maintenance for Saudia, also known as Saudi Arabian Airlines. At age ten, Yousf's father took him to his workplace, where he saw and toured airplanes, and, at that moment, he knew that's what he wanted to do.
While Yousf graduated from Pittston Area High School, he was raised in Saudi Arabia until he was a teenager. Born in Seattle, Washington, he and his family moved to Saudi Arabia when Yousf was just one month old. Yousf, his mom, two older brothers, and two younger sisters moved back to the United States when Yousf was 14 years old. Yousf jokes that his father has a very extended commute between Saudi Arabia and the U.S.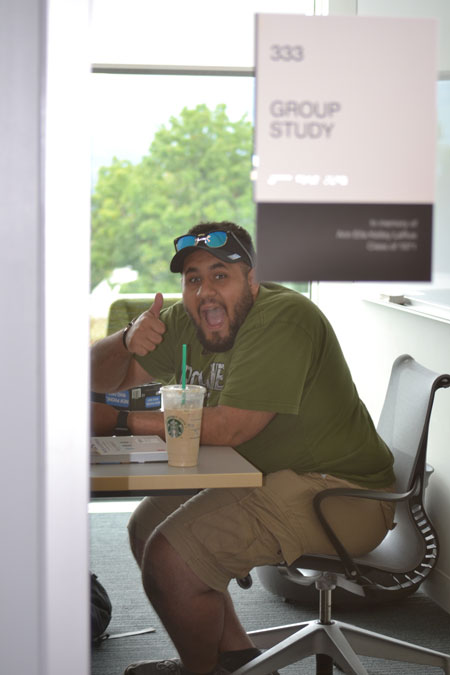 While a student at Pittston Area High School, Yousf was a member of the football team (4 years), participated in the Relay for Life (3 years), was a member of the Journalism Club, Yearbook Staff, and was president of the Young Lawyers Club, where mock trials were conducted during his senior year.
Heading into his junior year at Marywood University, Yousf is more involved in clubs, volunteerism, and with his academics than he ever thought possible as a high school student. A member of the ambassador team for the Admissions Office at Marywood, Yousf enjoys talking with prospective students and their families about his academics, programs, and student activities.
"I had an indescribable feeling of fitting in when I stepped onto Marywood University's campus as a prospective student." Remembering his own experience with an Admissions Ambassador during his tour as a prospective student, Yousf hopes to provide visitors with the information that they need to make their college decision easier.
Yousf is also the president of the Aviation Club and is a member of the Student Government Association as an international and multicultural representative. He is a member of Global Unity, and, in his free time, he helps with the Student Activities Group and the Commuter Committee.
Serving as an Orientation Leader, Yousf gets as much as he gives. He said, "It's a real bonding experience." Reminiscing on a recent experience, Yousf explained, "Two Orientation Leaders took a trip to Long Island, N.Y., to pick up one of the other team leaders, because he was missed so much by the group."
Beyond the feeling of fitting in and bonding with other students on campus, Yousf stated, "Marywood prepares you for challenges and changes." One such challenge occurred the day before he was supposed to fly an aircraft for the first time: Yousf had a seizure while driving his mom to school. It was discovered that he had Stage 2 Brain Cancer, and he underwent surgery and radiation therapy. "As a result of the cancer, I began taking Aviation Management track courses. Marywood gave me a chance," he said.
Hoping to get back on track and in the air, Yousf is anticipating an upcoming appointment at which he is optimistic about being cleared for flight by an FAA doctor. On a normal day, he can be found in Aviation classes at Marywood, at the airport, in the Admissions Office giving tours to prospective students, or meeting with members of the Aviation Club.
Yousf recently job shadowed for nine days during the winter break at DAMMAM Airports Company (DACO). DACO operates, manages and provides maintenance services for King Fahd Dammam (KFDA) and its facilities.
"Being a member of the Aviation Club has been the best experience for me," Yousf said. "Capt. Joseph McDonald (Director of Marywood's Aviation Program) is so impressed by the club's involvement and the community service that we have done and continue to do."