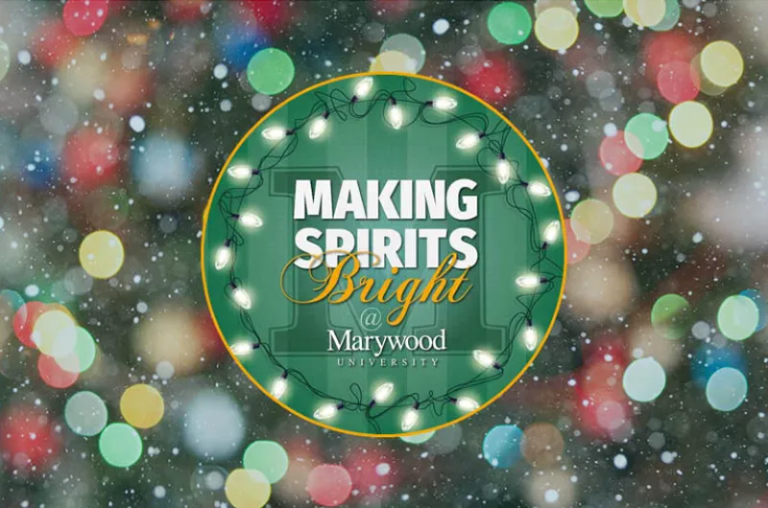 Marywood University to Celebrate the Season by "Making Spirits Bright"
"Making Spirits Bright," Marywood's annual celebration of the holiday season through festive programming, community service, and spiritual opportunities, will kick off on Wednesday, November 30, and continue through New Year's Eve.
FESTIVE PROGRAMMING
The signature event, Marywood's Annual Christmas Tree Lighting, will take place in the Rotunda of the Liberal Arts Center on Wednesday, November 30, at 4 p.m. Seasonal music from student musicians will be featured. The event is free and open to the public. The public also may view the Marywood Christmas tree during the normal operating hours of the Liberal Arts Center, Monday through Friday, December 1-22, 9 a.m.-5 p.m.
Marywood's campus will feature its main outdoor Christmas display of the Nativity scene at the Memorial Arch on Adams Avenue, and tasteful seasonal lighting will adorn various sections of campus. Indoors, an office decorating contest, sponsored by the Student Government Association, will allow students to vote for their favorite décor. A $250 donation will be given to the winning office's favorite charity, and the winner will be announced at the tree lighting ceremony
Sounds of the season will be broadcast by Marywood's award-winning, student-run radio station, VMFM 91.7, which once again becomes Christmas 91.7 and continues its traditional community gift of broadcasting commercial-free Christmas music, 24/7. Christmas programming starts on Friday, December 2, at 4 p.m., and continues through New Year's Eve. Those outside of the station's local broadcast range can stream it for free online or through the Tune-in app.
Marywood will offer its traditional Breakfast with Santa event, hosted by the NEPA Marywood Alumni Chapter in conjunction with the Office of Alumni Engagement. The event is set for Sunday, December 4, from 9 a.m. - Noon, in the Latour Room, Nazareth Student Center. Seating is limited, and preference is given to Marywood alumni. Advanced registration is required; once the event capacity is reached, registration will be closed. For details, go to: https://alumni2.marywood.edu/breakfast-with-santa-2022.

The Music, Theatre, and Dance department is presenting several seasonal concerts, all of which are free and open to the public, including:
String Ensemble, Thursday, December 1, 7 p.m., at the Marian Chapel.

The String Ensemble will be performing an arrangement of American composer George Walker's

Adagio from the 2

nd

String Quartet

, Grieg's

Holberg Suite

, and

Divertimento in Bb, K.137

by Mozart.


Chamber Singers Christmas Concert, Sunday, December 4, 2 p.m., at the Marian Chapel.

The Marywood University Chamber Singers' annual Christmas Concert will feature Francis Poulenc's profound and highly expressive

Mass in G

, as well as settings of "O Magnum Mysterium" by composers from both the Renaissance and the present day. In addition to sacred choral music, the performance will include Will Todd's jazz settings of popular Christmas carols.


String Project Holiday Gala Concert, Monday, December 5, 6 p.m., Munley Theatre, Sette LaVerghetta Center for Performing Arts. This concert will feature string students, ages 4-18, performing a wide range of music and styles, including some holiday music, both in small ensembles and orchestra.


Marywood Guitar Ensemble and Melinda Krokus, Music & Spirituality Holiday Concert, Tuesday, December 6, 7 p.m., at the Marian Chapel. The Marywood Guitar Ensemble presents its traditional Holiday Concert by performing a diverse repertoire, including songs, old carols, Blues, and French music. This year, however, brings two novelties, focused on Music & Spirituality. Melinda Krokus joins the concert, providing poetry readings and grounding sessions. In addition, a very special set of guests, who have been taking Professor Carvalho's Music & Spirituality class, will present posters on their individual research! The topics are extremely varied, such as the Igbo spiritual and musical practices, the music of Ariana Grande, Paganism, Catholic Councils, and many more.


Marywood Wind Ensemble, Christmas Variety Show, Wednesday, December 7, 7 p.m., Marywood Heights Commons.

The Marywood Wind Ensemble, under the direction of Dr. F. David Romines, will present a gift to the residents of Marywood Heights in the form of a Christmas variety show with instrumental musical numbers and a lot of singing. All of the traditional holiday favorites will be featured in the program. Special guests will include the Marywood acapella group,

Nomadic Chromatics.


Marywood University Orchestra, Saturday, December 10, 2 p.m., Munley Theatre, Sette LaVerghetta Center for Performing Arts.
COMMUNITY SERVICE
An on-campus Giving Tree service project will run from November 7-November 30. Gifts for the Giving Tree are due at the Tree Lighting ceremony on November 30, and drop off boxes will be available at the event as well as on campus. Beneficiaries of this service effort are Friends of the Poor, Marywood Heights, and the Community Intervention Center. Additionally, Marywood's Campus Ministry Office will host a Christmas card writing social event for students, with cards being sent to Our Lady of Peace residents/staff, NativityMiguel Scranton students/staff, St. Joseph's Center residents/staff, and veterans.
SPIRITUAL OPPORTUNITIES
Mass for the Solemnity of the Immaculate Conception, patronal feast of the IHM Sisters and the United States, will be celebrated on Thursday, December 8, at Noon in the Marian Chapel.